Tupperware 1st Quarter Results Up 3% To $582 Million
July 25, 2015
By Tina Williams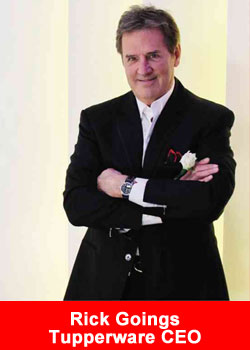 Rick Goings, Chairman and CEO of Tupperware Inc., commented, We delivered right in the middle of our sales guidance in the first quarter, up 3% in local currency, despite a difficult comparison and a few challenged markets, demonstrating the strength of our diversified global portfolio. Significant contributors to sales growth were Argentina, Brazil, China, Tupperware U.S. and Canada, and the South African businesses.
Goings continued, We feel confident in our ability to deliver improved results in the quarter ahead through the levers in our business model.

At the same time, we look toward the future and executing our strategies to contemporize the business model, strengthen our core business fundamentals and extend our reach to better support and grow our 2.9 million global sales force.
First Quarter Executive Summary
First quarter 2015 net sales were $582 million. Emerging markets, accounting for 66% of sales, achieved an 8% increase in local currency. Established markets were down 6% in local currency primarily from Europe.
GAAP net income of $29.5 million, down 44% versus prior year GAAP net income of $52.2 million. Excluding the impact of foreign currency rates on the comparison, net income was down 16% versus prior year. Adjusted diluted E.P.S. of $1.02 included a 33 cent negative impact versus 2014 from changes in foreign exchange rates, which was four cents worse than the 29 cent impact included in January's guidance. Earnings per share without items was down 22% versus last year in dollars and up 4% in local currency.
Total sales force of 2.9 million was up 2% versus prior year at the end of the quarter.