Zija International To Hold Science Tour
July 31, 2015
By Team Business For Home International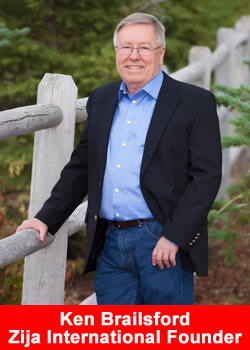 Zija International is holding a four-stop tour where they will provide attendees with an in-depth look at the exciting science behind the company's three product divisions: Zija's Core Nutritionals, Améo Essential Oils, and Ripstix Fitness Supplements.
Zija's Vice President of Research and Development, Dr. Joshua Plant, and recently-announced Zija Product Advisory Council members will be in attendance. The Zija Science Tour is designed to help individuals experience an educational night out to fully grasp the research and discoveries that have helped structure Zija's most popular products on the market today.
Zija International began with its popular line of Moringa oleifera-based products. The division, now called Core Nutritionals, continues to thrive due to the incredibly nutrient-rich products derived from Moringa. Last year the company expanded into two new divisions: Ripstix Fitness Supplements and Améo Essential Oils.
The company is also offering the first 200 individuals to register at each tour stop a FREE 5 ml bottle of Améo Lemon Essential Oil!
TOUR DATES AND LOCATIONS
August 4 – Fort Wayne, IN
Attending: Dr. Joshua Plant, Daniel Pénoël, M.D., Pierre Franchomme
Rhinehard Music Center
2101 East Coliseum Blvd.
Fort Wayne, IN, 46805-1497 US
Register HERE
August 5 – Austin, TX
Attending: Dr. Joshua Plant
Crowne Plaza Austin
6121 North IH-35
Austin, TX 78752 US
Register HERE
August 6 – Fresno, CA
Attending: Dr. Joshua Plant, Daniel Pénoël, M.D., Pierre Franchomme
Ramada
324 E. Shaw Ave.
Fresno, CA 93710 US
Register HERE
August 8 – Phoenix, AZ
Attending: Dr. Joshua Plant, Daniel Pénoël, M.D., Pierre Franchomme
Hilton Phoenix Airport
2435 South 47th Street
Phoenix, AZ 85034 US
Register HERE
About Zija International
Zija International, a privately held and privately funded business founded by Kenneth E. Brailsford, develops natural health, wellness, nutrition and fitness products. The company operates in more than 50 countries worldwide.
Zija has seen consistent growth every year since it was founded over 9 years ago and was recently named the "Fastest-Growing Company in Utah" by Utah Business Magazine. It has also been recognized on fastest-growing and top-revenue lists by Inc. Magazine, Direct Selling News, and Utah Valley Magazine, to name a few.
With corporate offices located in Lehi and more than 4 million sq. ft. of state-of-the-art warehouse, shipping and manufacturing facilities located in Utah, United States, Zija International employs more than 200 individuals and has the capacity to grow to more than two billion dollars in annual sales.