Beautycounter Reaches 9,500 Distributors InThe USA
August 6, 2015
By Team Business For Home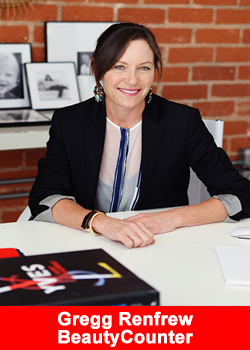 Serial entrepreneur and founder of cosmetics direct selling company Beautycounter, Gregg Renfrew speaks about being a serial entrepreneur and her passion for developing safe and natural beauty products for women and families.
At 19, Renfrew went out to Nantucket and set up a cleaning service to make money, and left the island with thousands. She developed another company and ended up selling it to Martha Stewart. Her current company Beautycounter recently surpassed 1 million units in sales.
Renfrew, is a kind of guru for women. They are listening to what she has to say and are following her in her latest venture centered around cosmetics.
After graduating from college, she went to work for Xerox Corporation.
"I knew they had the best sales training program and I really wanted to learn how to sell. That was the beginning of a career that has taken me pretty far. After that I started my own company selling wedding gifts online." Say says. This is the company she eventually sold to Martha Stewart.
How easy or difficult was it to come up with a business model to make something?
What comes easy to me is ability to see the possibility of what a business model can become. When I started The Wedding List and prior to selling it to Martha, I knew that there was going to be a point of time when people wanted to buy wedding gifts online. In that way, I had been forward thinking and scrappy and resourceful. I do think I have always been able to take an existing industry and see where it could go.
The Wedding list, before it was the Wedding list, was something else. How did you grow it to become what it did?
After working for Xerox, I subsequently went on to work in Hong Kong in the financial markets briefly. I was going to all these weddings and really hated what I had to wear so I started to sell bridesmaids dresses on the side. Then my job required me to move to London and I wanted to continue selling these bridesmaids dresses there. I cold-called this woman in London who ran a little wedding registry shop called The Wedding List and told her I wanted to sell bridesmaids dresses through her. That didn't really pan out because in England they don't really use bridesmaids.
But the relationship continued and fast forward a few years, I continued to think about the concept of her wedding registry shop and asked her if I could bring it to the States and incorporate the Internet into it.
How did it get to Martha Stewart? Did she find you?
She did find us. That doesn't happen all the time, but many people in the New York area and beyond had become intrigued with our concept. One of Martha's representatives who ran her Weddings magazine was really interested in our business model. They had this incredible network of women who were reading their Weddings magazine and getting content but they were trying to figure out a way of monetize it. They stumbled upon The Wedding List and fell in love with it.
You seem to be moving very fast. From the time you were 19 years old to today with Beautycounter. Do you get bored really fast?
I don't think I get bored very quickly although I do get excited when I see something that really didn't exist before and I can see it start to take off. I love it when I notice people starting to recognize the name of a product or a company. I think it's not about getting bored quickly, its more about getting excited about the high growth rate.
How did Beautycounter come about?
Back in 2006 I became impassioned with the environmental health movement. I learnt that we are being exposed to harmful ingredients and toxic chemicals through our personal care and cosmetics products. I have this obsessive quality to me so I started to do as much research as I could to figure out what was in our products. I was searching for solutions for myself and my family and wasn't really able to find what I wanted. There were products that were high performance but filled with ingredients that I knew were harmful to our health. On the other end of the spectrum there were these eco type of brands that weren't necessarily meeting my performance requirements or the aesthetic I was looking for.
I decided to start a company that was really a movement towards better beauty. We named the company Beautycounter because we wanted something that was intentionally American, it was intended double entendre going counter to what the beauty industry had ever done, and I wanted something that women could relate to but it was really about what the Beautycounter was going to become, it was the next generation.
How big of a sales force do you have in the US?
We launched in March of 2013, so we're just two years out of the gate although I've been working on this for years prior, and we now have about 60 people working in our corporate offices in Santa Monica and about 9,500 women selling our products across the country, representing us in all 50 states.
As a serial entrepreneur, how do you move so fast? And has it been hard to do it as a female entrepreneur?
If you have the entrepreneurial spirit in you and you want to be successful, you need to be extremely passionate about what it is that you are doing. People follow you because they believe in you and your vision and your commitment to that vision. In terms of being a woman, this time around things were easier for me because I knew the ropes by now.
The first time around when I was raising capital for The Wedding List, it was much more challenging. The world has shifted somewhat in terms of the old boys network of venture capital and private equity. At the end of the day it's your confidence and what you have to sell. You have to realize they need great entrepreneurs and great ideas and having that confidence, whether you are a woman or man is what matters.
What's the biggest mistake you have made, that you wont make again?
I've made a couple of mistakes along the way. One is not having the confidence to realize when you start a business that people are important to your proposition but no one is invaluable. That means making sure that you put the right people around you and not feeling nervous that you need lots of people around you. Choosing you investor wisely is critical to your success. The other thing I tell people is to try not to hire your friends because that puts you in a very difficult position.
How far are you going to take Beautycounter? Will you eventually sell this too?
I have been involved in this now for almost 5 years. We created all of our products from scratch. There was no one out there that was meeting the performance and safety requirements that we demanded for ourselves. So this has been a long time in the making. I am wholeheartedly committed to Beautycounter. And we are Beautycounter are committed to effecting change. This movement has barely begun. Its not just about building a business that's financially successful. We want that for sure, but we also want to shift an industry to a better place so that people have safer and high performing products.
You have three young kids now. How has that changed you as a businesswoman?
I think that I became extremely efficient with my time. I don't spend a lot of time in the office just walking around and chatting. When I had the Wedding List and I was single, I would stay at work all night at times. Now I try to be really efficient, have shorter meetings and get things done quickly. It's hard as a woman, juggling a lot of balls!
Best advice you would give someone who is passionate about starting something.
First and foremost – Go for it. Don't look back. Too few people, especially women, go for it. They find all the reasons they cant. So many people told me I could never do this with Beautycounter. They told me it was impossible. At the end of the day passion and perseverance will take you very far. Be keenly aware of your strengths and weaknesses and surround yourself with people who are equally smart or smarter than you who can really help you take your business over the finish line.