Blanka Williams Achieves Highest Rank With DubLi Network
August 7, 2015
By Nicole Dunkley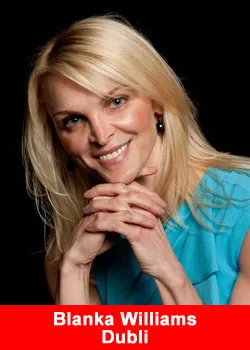 DubLi Network, the world's largest ecommerce direct selling company, today announced that Blanka Williams has reached the rank of Senior Vice President (SVP), the first woman to reach this important milestone and only the third SVP in DubLi Network's 12 year history.
Michael Hansen, Founder of DubLi Network, stated, Blanka's ability to reach the Senior Vice President rank in only two short years with DubLi Network, her first foray within the network marketing business model, speaks volumes to the relevance and value of more women joining this industry more than ever before in its 95 year history.
In fact, in 2012, 82% of all women in the United States who earned USD$100,000 per year or more did so through the direct sales channel.
My advice to others who are just now discovering the direct sales model is to pursue this business aggressively, stated Ms. Williams.
There has never been a better time in recent history to engage in this exceptional industry.The Digital Revolution is now upon us as is the Revolution of Woman, both providing opportunities with limitless access and virtually no barriers.
This ability for unlimited knowledge will inspire woman and mothers to be even further connected. The Digital Revolution has brought us social networking which has been the biggest advance for the MLM industry which, of course, has directly impacted woman as the biggest participants within this industry.
It is expected that direct sales will become the single biggest contributor to basic family income as global economies shift to their next phase of interconnectivity. News anchors at CNBC, Bloomberg and Fox news are openly talking about the direct sales strategy which is a major leap in the sheer exposure the concept has had over the past 50 to 100 year's time.
About DubLi.com
DubLi.com is a global leader in online shopping and Cashback rewards to customers worldwide. DubLi is emerging as a leading ecommerce platform offered through network marketing, currently serving customers in more than 120 countries. E-shoppers can browse through different categories, which feature international and local brands, travel, coupons, discounts and vouchers.
DubLi has adapted its multilingual and multi-regional ecommerce platform to serve 12 international markets in local language and currency to strengthen its global ecommerce presence and encourage sales in its countries of operation. Depending on the market, DubLi.com features the world's most popular brands including Amazon.in, Walmart, Nike, Hotels.com, Zalando, Groupon and Expedia.
Since its founding by Michael Hansen in 2003, DubLi has offered entrepreneurs the opportunity to create their own distributor organization by joining the direct sales company, DubLi Network (dublinetwork.com). The global network of independent distributors generates traffic and the resulting sales to DubLi.com as well as markets a variety of memberships.
DubLi and DubLi Network are subsidiaries of Ominto, Inc. and are headquartered in Seattle, Washington.