CAbi To Enter Canada
August 4, 2015
By Team Business For Home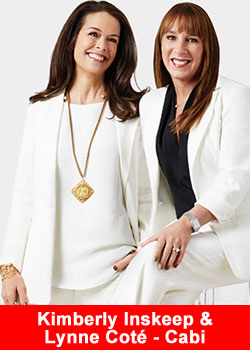 CAbi, one of the largest direct sale women's apparel businesses in the U.S., is entering the Canadian market this week.
The Canadian market will include all provinces, except for Quebec, and represents the first foray outside of the U.S. for the 14-year-old company. CAbi — Carol Anderson by invitation — was cofounded by Kimberly Inskeep, who is president and chief culture officer, designer Carol Anderson and 10 other individuals.
CAbi was acquired three years ago by two private equity firms, J. H. Whitney & Co. and Irving Place Capital.
Rick Perkal, a senior adviser at Irving Place, said the model was an attractive one because it was about "women helping other women feel better about themselves." He said if the Canadian expansion goes well, the company would consider bringing the brand to other English-speaking countries.
Michael C. Salvator, senior managing director and chief financial officer at J.H. Whitney, said his firm invested in the business because it was an "opportunity to acquire a leading direct-selling company with a proven distribution model." He noted the company's strong financial performance, and said there is "significant runway for long-term growth." Salvator also noted, "CAbi's retention rates are unbelievably high. Once stylists get past their fifth season, [Cabi] rarely lost them, so they stay forever."
CAbi has a network of 3,300-plus consultants in the U.S., and has just added an additional 20 for its new Canadian business. Many of the women, some of whom earn annual net incomes of $30,000 or more working between nine to 30 hours a week, begin with CAbi as a part-time job to supplement their regular incomes and then turn it into a full-time business for themselves. They do need to meet certain selling minimums in order to remain a CAbi consultant.
The company also hosts a training conference, called CAbi Scoop, twice a year for its stylists. In addition to training sessions, there is a fashion show to highlight the season's collection. Most Cabi consultants host 17 shows in five months, with the average total purchase per show around $1,900. The average customer order purchase is $290.
Lynne Coté, chief executive officer, said the company elected not to enter Quebec at this time due to logistical requirements unique to the province. According to Coté, the Canadian brand ambassadors will have a U.S. team leader teaching the newbies the ropes.
"We chose to enter Canada because the culture [and language] is similar to the U.S. so we can keep the company culture intact and not become two separate companies. We also wanted to work with people in the direct-selling business because Canada has a strong direct-selling market, although not a significant number of fashion companies in the direct-selling space."
She noted that some of the new team members are digging into their network, and are already key influencers in the province they will be overseeing. The expectation — and how the business is expanded — is that these members will cast a wide net where individuals within their network also will become hosts for shows for their friends.
The average retail price points for jackets are $138 to $248,while pants range from $108 to $128. Tops are lower, with blouses between $79 to $119 and sweaters at $89 up to $148. Dresses, although not a big component of the collection, are between $98 and $128. Each collection averages 100 pieces, broken into seven groupings, with each one having a color story, theme or trend. The line also has a growing collection of accessories, such as scarves, belts and costume jewelry, the newest category. Necklaces range from $118 to $128, with bracelets between $79 and $108.
According to Coté, the company buys about 80 percent of the collection up front, and then through data from early orders, will decide what to repurchase for the balance of the season.