Dexter & Tonya Scott Reach Global Director Rank With Total Life Changes
August 7, 2015
By Nicole Dunkley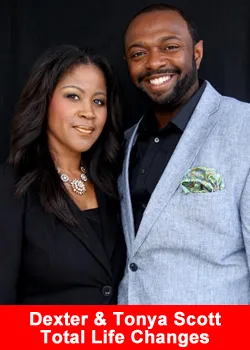 Dexter and Tonya Scott were introduced to Total Life Changes by their brother and sister-in-law, Executive Ambassador's Gregg and Lenika Scott in December 2013. They signed up to become Independent Business Owners but did absolutely nothing at the time. Dexter was the Head of Admissions for a company founded by President Dwight D. Eisenhower that traveled students all over the world, while Tonya had the most important job on the planet, being a stay-at-home mom.
Dexter was earning over $100,00 as the Head of Admissions, so they didn't take this opportunity seriously until Dexter was laid off from his position in May 2014, which completely eliminated their only source of income. This layoff occurred two days before they were leaving the country for a vacation in Italy.
"We were devastated by the loss of my job. But, my wife and I have a great spirit and plenty of faith in the Lord, so we knew that this happened for a reason. God must have a plan for us Tonya would say. But at the same time, here we are trying to enjoy a vacation knowing that our only source of income had just been shut off. So, we spent much of our time in Italy discussing this new business opportunity with Total Life Changes, explains Dexter Scott.
"It was a very emotional time for us. We were living comfortably while raising our children and life threw us a curveball. We had no choice but to face this career move head on. So while on vacation in Italy we both agreed to get plugged into TLC and make this opportunity work for us and our children," adds Tonya Joyner-Scott.
After their return to the states, they had no other choice but to hit the ground running with TLC. Tonya is noted in saying, "If your mouth is closed, your business is closed". They are growing their business every day through launch calls, tea parties, transformation parties, one-on-one conversations, opportunity calls and live meetings. They have introduced products to family, friends and neighbors; they are driven by service, to help others realize their potential to obtain greater health and change their financial situation.
"We grew our organization by implementing the following principles: business intelligence, integrity, patience and professionalism. We utilize the platform of social media to introduce these dynamic products to the world. We believe that by implementing these principles and strategies into our business, it will provide the framework for everyone in our organization to build a solid and firm foundation," says Dexter Scott.
Total Life Changes has provided The Scott's with the opportunity to totally change their financial landscape. They have been able to place their younger children into summer programs, travel with them on business around the country and on several recent vacations to Hawaii and Cancun, Mexico. When Dexter's job was eliminated, he lost an income of $105,000 a year, but with Total Life Changes' dynamic products and compensation plan, they have been able to quadruple their income, earning $45,000 a month.
Dexter and Tonya Joyner-Scott are very grateful to Gregg and Lenika Scott for encouraging them to join Total Life Changes. "I love the products. I believe in the leadership and the momentum that we're experiencing with TLC. I believe that service is the rent we pay for the space we take up on earth. And there is no greater feeling than serving others and witnessing them earn an additional income while improving their health with TLC's diverse products," says Dexter Scott. "Total Life Changes offers everyone the opportunity to win. The atmosphere in this company is incredible. We edify and acknowledge the success of others in TLC," adds Tonya Joyner-Scott.
Total Life Changes offers an amazing line of health and beauty products along with a great business opportunity. TLC was created by CEO Jack Fallon over 15 years ago with a single product, Nutraburst, and has grown to include our Iaso™ brand of products like our popular Iaso™ Tea. Our hybrid binary system allows IBO's of TLC to quickly be compensated for introducing new reps to our products and business opportunity. The opportunity for you to feel healthier and flourish financially is what TLC is all about!
Come see for yourself. Join us for The TLC Awards 2016 in magnificent Miami!