doTERRA Doubles In Size In Only One Year
August 28, 2015
By Tina Williams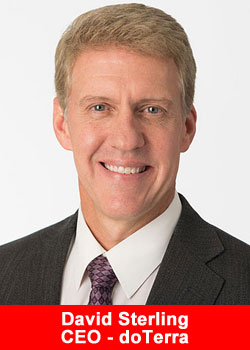 doTERRA celebrated the opening of their new 200,000 square foot Pleasant Grove production building in true doTERRA fashion Aug. 25 — focusing on the essentials.
The new facility houses their manufacturing and production lines, warehousing, a product will-call center for their wellness advocates, aromatherapy spa, reception area and additional office space. The new center has brought all of doTERRA's local employees under one roof. Prior to this, their warehousing, production, and manufacturing employees were working in buildings scattered throughout Utah County.
"It's exciting to get everyone in one spot," said McKay Brown, senior director of corporate marketing at doTERRA. "In just a year, we've grown and filled some spots sooner than we anticipated. It's been very strong growth."
The company started in 2008, supplying essential oils for health and wellness to customers through direct sellers, known in the company as wellness advocates. David Stirling, doTERRA CEO, credited these wellness advocates throughout the world, as well as doTERRA's management and employees, for building d?TERRA into the solid business it is now.
"It's been a team effort from everyone," he said.
He also highlighted doTERRA's global reach, mentioning how the company is now employing thousands of people in impoverished countries who are planting, growing and processing the plants for doTERRA's essential oil products.
"We anticipate thousands more will be employed in the future," Stirling said. "We have a huge market behind us, and bring this market to them. Then we educate them how to up their production to the quality we need. We're fortunate."
Stirling also mentioned the Healing Hands Foundation that was established simultaneously with the birth of the business. doTERRA provides for all overhead and administrative costs of the foundation, ensuring that 100 percent of all outside donations go directly to those receiving aid. As part of the foundation, employees and wellness advocates recently contributed more than $300,000, which doTERRA matched with another $300,000, towards relief efforts for the Nepal earthquake this spring. Just this month, more than 50 doTERRA employees built a wheelchair-accessible playground for the Now I Can Cottage Therapy Center in Provo as part of the Healing Hands Foundation.
In his comments at the ribbon-cutting ceremony, Representative Jason Chaffetz complimented the company, attributing their success to their "quality product, quality management, and because you are touching lives."
"I'm amazed at the global impact this little company in Utah is having," Chaffetz said.
He commented on the speed of doTERRA's business growth, saying that he felt like he'd only just been at doTERRA for another ribbon cutting – for their large 200,000 square foot corporate offices that opened last year.
"I'm sure I'll be back for some other big event here in another six months," he joked.