LegalShield Announces New Platinum Earner, Carlo Brown
August 27, 2015
By Tina Williams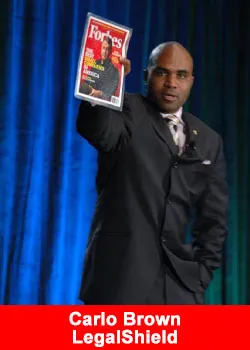 LegalShield Announces New Platinum Earner, Carlo Brown: Achieving Platinum Executive Director is an incredible accomplishment, particularly once you surpass the first month mark.
We are honored to announce that Carlo Brown has qualified for Platinum Executive Director for THREE consecutive months. To qualify for Platinum Executive Director requires 4 Executive Director legs or 50 Personal Sales and 3 Executive Director legs or 150 Personal Sales. Having started his LegalShield career in 1999 while working at Costco and attending Howard University, Mr. Brown has achieved the $100,000 Income Ring and is a member of the Millionaire Club. Mr. Brown believes that as a LegalShield Associate, he is "help(ing) people reach financial independence and have peace of mind."
As part of the Platinum Recognition, Carlo will receive the following rewards for three consecutive months of qualification:
Zenga Platinum Sports Coat
Hermes Tie
$1000 Monthly Lifestyle Bonus
$10,000 Cash Bonus
NOTE: Retention thresholds must be met as well in order to guarantee bonus payout.
We would like to congratulate his upline Platinum Bonus earner, Mr. Mike Humes, who will receive a matching $10,000 Bonus for Mr. Brown's achievement. Mr. Brown's epic accomplishment is a testimony to his hard work and illustrates his exemplary leadership in the field. Congratulations!