Total Life Changes Adds Two More Superstars To Its Product Lineup
August 10, 2015
By Nicole Dunkley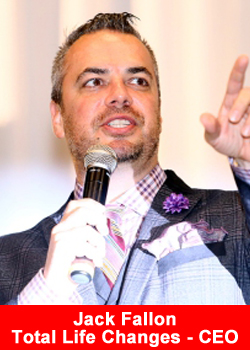 Total Life Changes is dedicated to providing revolutionary products that provide life-changing results. TLC is closing out the third quarter of business with two innovative products that provide immediate gratification.
Who said you can't have a shake before bedtime?
Slim PM was first announced in front of more than 3,000 guests at TLC's HOTLANTA Conference inside the beautiful Georgia International Convention Center. After launching pre-orders at the HOTLANTA Conference, it is now available and shipping fast. Slim PM is the first complete fat-burning L-Arginine in the known universe. Total Life Changes has invested in a superior L-Arginine formula that contains additional active ingredients that prolong the effectiveness of the product.
Slim PM is a unique, high-quality formulation, synergistically designed to target cardiovascular health by utilizing a combination of anti-oxidant components & L-Arginine to assist in endothelial cell cleansing, fat burning and increased nitric oxide production. It provides powerful fat burning through Leptin control and other attributes.
Additional active ingredients:
Curcumin is an antioxidant and a powerful anti-inflammatory agent. Banaba Leaf Extract maintains cell integrity and assists in quick repair of damaged endothelial cells. Niacin assists in removing plaque from arteries, which improves blood flow. Branded Chain Amino Acids for faster recovery from exercise and intimacy. These integrated components of Slim PM assist in regulating Leptin levels, thus enabling the body to burn and eliminate fat while you sleep.
The number one immediate effect that most users claim is a great night's rest. Slim PM is a proprietary blend formulated to assist your body to burn fat, clean out your arteries, give better blood flow, increase endothelial cell integrity, recover faster from exercise, and most importantly, get blood flowing to those very special parts of your body to improve intimacy. Dissolve just one scoop of this complete L-Arginine formula into eight or more ounces of water and consume just before bed five days a week.
Next up is a proprietary body sculpting and skin repair creme that reduces stretch marks and fights fat accumulation in targeted areas of the body.
SlimR – Body Sculpting and Skin Repair Creme
Mothers have tried all the old wives' tales to treat stretch marks during pregnancy for years. They spent hundreds of dollars on inferior products that provide minimal results. Total Life Changes skin care experts Kevin and Jennifer Tilney have formulated a complete thermogenic blend to improve skin tone, contour and the ability to treat stretch marks associated with pregnancy and weight loss. The result is a patented thermogenic blend with ingredients and penetration enhancers that work synergistically to help promote a beautiful, healthy body contour.
Fight fat accumulation in the stomach, thighs, arms and hip area by following a healthy diet, drinking plenty of water, and applying SlimR twice daily. Natural herbal extracts, hyaluronic acid, Vitamin E and green tea help to smooth uneven skin tone, deeply hydrate dry, irritated skin and minimize stretch marks with daily use.
Total Life Changes offers an amazing line of health and beauty products along with a great business opportunity. TLC was founded by CEO Jack Fallon over 15 years ago with a single product, Nutraburst, and has grown to include our Iaso™ brand of products like our popular Iaso™ Tea. Our hybrid binary system allows IBO's of TLC to quickly be compensated for introducing new reps to our products and business opportunity. The opportunity for you to feel healthier and flourish financially is what TLC is all about!
Come see for yourself. Join us for The TLC Awards Weekend 2016 in magnificent Miami!