Total Life Changes President Armand Puyolt Delivers At Boot Camp Training
August 26, 2015
By Nicole Dunkley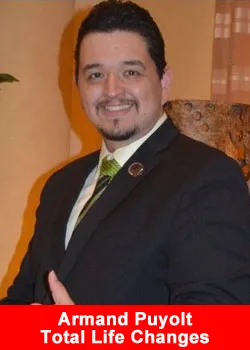 TLC President Armand Puyolt attended an Opportunity Meeting on August 14, 2015 at the Winston-Salem Embassy Suite Hotel in North Carolina, hosted by TLC representative, Raychel Stokes Small. The conference room reached its capacity and Armand demonstrated how to close every new prospect with a quick 30-minute presentation.
Following the opportunity meeting, there was a meet and greet that continued near the midnight hour. Armand spent much time meeting new TLC family members, answering their questions and taking many photos. "Every new prospect signed up with TLC tonight. And each distributor here at TLC is part of the family; we must always give family time to ask questions or discuss their concerns as they begin a new chapter in their lives," stated Armand Puyolt.
The Boot Camp Training started Saturday morning with enormous excitement. A marching band entered the Convention Center and played before a sold out crowd as Armand Puyolt entered the stage. It was a very special moment that set the tone for the days' events and guests knew right away that this training was going to be special. Boot Camp Training is an idea that TLC President Armand Puyolt wanted to initiate in order to bring many TLC distributors together and share his vision with everyone in the Total Life Changes family.
The ten-hour training was split into four parts. In part one, Armand shared his history of success in MLM and the business practices that helped him to achieve it. This was followed by a special VIP luncheon with Armand and registered guests for a Q&A session. Part three picked right up where Armand left off; discussing his business practices with practical examples. He discussed in depth how to value your life and once you see that value, use it to inspire your dreams and your "why." Guests were feverishly taking notes and trying to keep up with Armand's explanation of his "5 Steps to Success". The remainder of the afternoon focused on Mindset Training, prospecting, and the power of the binary compensation plan. One of the most important messages that Armand brought to the training was having guests think about the "Grand Opening" of their business with the right mindset and an understanding of the "Rules of the Game".
Message boards were riddled with positive affirmation after guests returned from Total Life Changes Boot Camp training.
"This past weekend, my husband and I were privileged to attend the Total Life Changes Boot Camp Hosted by Raychel Stokes Small. The man of the hour was our illustrious President, Mr. Armand Puyolt! My husband and I are going on our ninth month with TLC and have participated in several inspirational events, but for me, this by far was the BEST!! Mr. Puyolt not only presented in a very practical, patient and yet Informative way; he presented in a manner of being so sincere and transparent that you almost felt his heart literally jump into your lap! This is a man that leads by integrity and a tangible unconditional love for others that can be felt the moment you meet him. This event has become the inspiration that I needed in order to use my 86,400 seconds a day more wisely. This was not just a Boot Camp about TLC, this was a Boot Camp about the value of life and how we are ALL equally given everything we need to be successful!! No matter what it looks like or what negativity may come your way, believe in who you are and the unlimited things that you can do. I am so grateful for Raychel Stokes Small putting together this incredible event and allowing each of us to have this one-on-one time with our President of Total Life Changes, Mr. Armand Puyolt. This event will be something that I will hold dear to my heart for years to come, because it lit a fire inside of so many others in attendance that can now consistently say, "Yes I can!" So many families' lives will be changed because of the opportunity of Total Life Changes and the incredible inspiration that was not only shared, but was felt. A thousand times!! We thank you!!" ~ Jacquelyn Huff, National Director | Total Life Changes
The event closed out with Armand and Raychel calling leaders from all over the country to the stage and allowing them to share their personal story of why they said, "Yes" to TLC. Tears, laughter, excitement and explosive applause filled the room. Saying the event was special doesn't really express the level of unity, excitement and ambition that has inspired the more than 400 guests that attended the event. "I personally witnessed Mr. Puyolt, after training all day, hanging out in the hotel lobby until the early morning hours and answering questions and pouring into passionate new distributors and leaders. He is one of a kind," adds Scott Bent.
My husband and I were excited about spending our first year TLC Anniversary on August 15th at Boot Camp in Winston-Salem with Armand Puyolt and 400 fellow TLC distributors who travelled from near and far. Avery and I were invited to stand on stage among the Executive Directors and Above, who were asked to share why they said, "YES" to TLC! Each testimony was undeniably motivating! When our turn came, I admit I wasn't prepared, when my husband told 400 of our fellow TLC Boot Camp teammates that he made up his mind for us to say "Yes" again to another Work From Home opportunity because of one product called, "STRIKE UP for Men"!
I could have hit the floor! Well, it's really true and we certainly have no regrets sharing with anyone what this amazing company and products have done to bless our marriage and five wonderful children. At the end of the day, I came away from Boot Camp with a greater determination and commitment to focus on what matters most… people! TLC is so much more than a health and wellness company. We are changing people's lives! Our President, Armand Puyolt shared a wealth of knowledge. He really drove it home as to how important it is to keep what we share about TLC simple, so every potential customer or business partner can understand why they need what we have to offer. Sharing what we know from being a product of the product is absolutely essential to our success." ~Avery & LaShawn Williamson, Executive Directors | Total Life Changes.
"My name is Michelle Cornish. I have been a network marketer for 23 years. I almost missed the Total life Changes Boot Camp in Winston-Salem NC, but it was meant for me to be there. The most important thing I took away from that event is that everything I have learned over the last 23 years in this industry was completely wrong. The training that I received this weekend was priceless and I immediately came home and implemented what I wrote down in my notes. I knew when Total Life Changes was introduced to me in January 2015 that this was a different kind of company. I couldn't quite put my hands on it until I had the opportunity to meet our founder, Mr. Jack Fallon and having the pleasure of speaking with our President, Mr. Armand Puyolt. When Mr. Puyolt shared his story of humble beginnings with us at the Boot Camp and his "WHY", it reminded me of myself. He taught us to appreciate each of the 86,400 seconds of life that we are all given each and every day. The name Total Life Changes gives me chills every time I speak it, because that is exactly what these amazing products, compensation plan and leadership has given my family and I. A complete Total Life Change!
"While I must admit, I was dragged to the camp by my fiancé, a woman that obviously knows what I need before I do. We drove five and a half hours and I must have complained for six. It had been a long day and we drove through the night to get there. From the moment I walked into that room, I knew this was something special. The climate was full of love and positive people. People that all shared the same vision. To change lives through good health and residual wealth. Everyone was pleasant and inviting. The stage was set before Mr. Armand even opened his mouth. As he entered the room the crowd went wild and chanted TLC, TLC, TLC, my heart started to pound with excitement. It was at that moment I realized I was apart of something awesome, something that truly is life changing. As Mr. Puyolt poured his heart out on that stage, I couldn't help but think of what type of leader I wanted to be. He set the bar so high. He held nothing back as he filled our brains with strategies and formulas to take our businesses to the next level. More importantly, he shared how important it was to look out for the man coming up behind you. He shared his passion to help others by building your business with our hearts and not selfishness. That night my fiancé and I ran into Mr. Puyolt and Mr. Scott Bent in the hotel lobby. It was almost 1am. They greeted us with kindness and then proceeded to answer all of our questions. They stayed in that lobby until 4am giving us tips and advice. Who does that? This is where leaders are defined and winners are developed. Mr. Armand Puyolt has earned my utmost respect. He is a true leader. ~Tavares D. Campbell
These are just a few of the many accolades and recognition from attendees at Total Life Changes Boot Camp Training. Attendees have a new appreciation of their company, the leadership that continues to support their efforts and greater insight into the mindset that is required to become successful by serving others. President Armand Puyolt left a lasting impression on the guests and proved once again that he will always take the time to meet with anyone, at any time and stay with them until he has answered every last question they may have.
About Total Life Changes
Total Life Changes offers an amazing line of health and beauty products along with a great business opportunity. TLC was founded by CEO Jack Fallon over 15 years ago with a single product, Nutraburst, and has grown to include our Iaso™ brand of products like our popular Iaso™ Tea. Our hybrid binary system allows IBO's of TLC to quickly be compensated for introducing new reps to our products and business opportunity. The opportunity for you to feel healthier and flourish financially is what TLC is all about!