Young Living Essential Oils Unveils 18 New Products
August 14, 2015
By Nicole Dunkley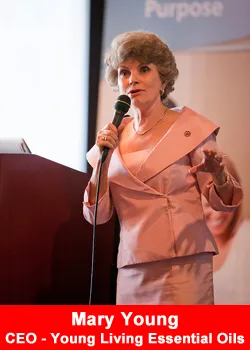 Young Living Essential Oils, the world leader in essential oils, unveiled 18 new products at the Young Living International Grand Convention in Dallas, Texas. Over the course of ten days, nearly 20,000 members gathered from around the globe to celebrate the past year's achievements, collaborate ideas, attend workshops and get a sneak peak at the newest additions to the home, beauty, nutritional, oils and kids lines.
"We are excited to unveil the newest product additions to our members, and hope they enjoy them as much as we do," said Travis Ogden, Young Living Chief Operating Officer. "They demonstrate Young Living's commitment to quality and dedication to continue offering products that will enhance an overall healthy lifestyle for the entire family."
The new products offer families a broad spectrum of oil-infused products that help support a healthy lifestyle. To name a few, the popular Thieves® oil-infused line has been expanded for the home by adding laundry and dish soap, along with a veggie soak and spray. Vanilla spice, chocolate and chocolate-coated bars and protein powders add flavor to the nutritional line.
Exciting new offerings have also been added to the Young Living beauty line. The Dino Land and Dolphin Reef are the first diffusers offered for children and make diffusing fun for the entire family. The two new oils, Light the Fire™ and Northern Lights Black Spruce are the first oils distilled from Young Living's new farm in Fort Nelson, Canada. Light the Fire was created to commemorate the convention and has a warm, spicy aroma.
Thieves Fruit & Veggie Soak
Thieves Fruit & Veggie Spray
Thieves Liquid Laundry Soap
Light The Fire Essential Oil Blend
Northern Lights Black Spruce essential oil
Peppermint Essential Peel™ single use swatches*
Lavender Essential Peel™ single use swatches*
NingXia Zyng™ hydrating, sparkling energy beverage
Master Formula™ multi-nutrient complex
Pure Protein Complete™, Chocolate Deluxe
Pure Protein Complete™, Vanilla Spice
Slique™ Bars, Chocolate-Coated
Dino Land Ultrasonic Diffuser
Dolphin Reef Ultrasonic Diffuser
*Essential Peels, Dead Sea Mud Soap and Bath Salts are only available for a limited time.
About Young Living Essential Oils
Young Living Essential Oils, LC is the world leader in essential oils with a strict Seed to Seal process to produce pure essential oil products for every individual, family, and lifestyle. This process ensures that all products are genuine, free of synthetic chemicals, and pure. This commitment stems from the company's twenty years of stewardship towards the earth and its people.