Donald Trump Made Millions In Network Marketing
September 4, 2015
By Tina Williams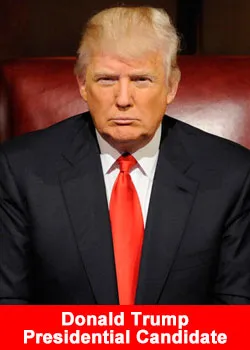 The Wall Street Journal wrote an article called Donald Trump made Millions in Network Marketing: Over the past decade, Donald Trump has earned millions of dollars for extolling ACN Inc., a multilevel marketing firm that has weathered regulatory investigations in three countries.
Mr. Trump not only endorsed ACN, he twice featured the company on his former reality TV show, "The Celebrity Apprentice." Both episodes featured teams of entertainment figures competing to promote versions of a video phone sold by the North Carolina firm.
"I think the ACN video phone is amazing," Mr. Trump said in an ACN news release just before a two-hour, prime time Sunday night Celebrity Apprentice episode on the product in 2011. "I simply can't imagine anybody using this phone and not loving it."
Even before the show aired, the ACN video phone was in trouble. It sold poorly in part because it only worked with other ACN video phones, unlike Skype's video-calling technology. The company had slashed orders for the phone from its supplier, which laid off 70% of its staff just before the show aired and later filed to liquidate in federal bankruptcy court, according to regulatory filings.
The bad news about the phones was never mentioned by Mr. Trump on the show, nor did he disclose to viewers he had been paid by ACN for appearances over the years. According to documents recently released by Mr. Trump's presidential campaign, he received $450,000 apiece for three of the most recent speeches for ACN, in 2014 and early this year.
Since launching his presidential campaign, billionaire Donald Trump has been reluctant to spend money on TV ads, pollsters or efforts to get on the ballots in several states.
Mr. Trump, who currently leads the field of Republican candidates for president, bills himself on the campaign trail as a straight talker and says he will use his business savvy to solve America's problems.
In an interview this week, Mr. Trump said ACN had hired him to give motivational speeches. "I do not know the company. I know nothing about the company other than the people who run the company," he said. "I'm not familiar with what they do or how they go about doing that, and I make that clear in my speeches."
Mr. Trump said companies pay a fee to appear on "The Celebrity Apprentice." "They paid a lot of money to go on the show," he said. "It was like a two-hour advertisement, as opposed to a 30-second commercial." NBCUniversal, which broadcast the show, declined to comment.
Both Mr. Trump and ACN described the video phone as a good product, but said technology's rapid pace had killed it by the time the show aired five months after filming.
The phone problems were only a blip for ACN, which has turned the appearances on Mr. Trump's show and his endorsement into a centerpiece of the pitch for its "home-based business opportunity." The company recruits people to sell digital residential-phone service, wireless-phone service and satellite-TV service, as well as energy services through Xoom Energy LLC, which ACN says is controlled by ACN and its owners. Xoom is under scrutiny by Maryland utility regulators for allegedly deceptive sales tactics—allegations that Xoom denies.
For years, ACN devoted a section of its website to Mr. Trump, including his favorable comments about the company and a photo of him with its founders. After The Wall Street Journal interviewed Mr. Trump Tuesday afternoon about his relationship with ACN, mentions of Mr. Trump were deleted from the website. An ACN spokeswoman said the company decided to remove the material "in conjunction and with the full support of the Trump organization" because of Mr. Trump's candidacy for president.
An image taken earlier this week from the website of multilevel marketing firm ACN shows company President Greg Provenzano with Donald Trump, and includes a comment from Mr. Trump about the company. ACN later removed the material from its website.
Privately held ACN, based in Concord, N.C., said it has more than $800 million in annual revenue and about 200,000 sales representatives in 24 countries.
New ACN recruits pay $499 to become "independent business owners." Representatives can earn money by selling ACN services to others. Marketing materials emphasize recruiting new salespeople, who often buy ACN services as well as sell them. These new sales agents then are encouraged to recruit others.
Some regulators and consumer advocates have raised concerns about ACN's business model, saying that few participants end up making money.
ACN has successfully fought off legal actions by regulators in Montana, Canada and Australia who claimed it was running a pyramid scheme, in which income comes primarily from recruiting new members instead of selling products. Canadian and Australian courts decided the company's business model didn't violate anti-pyramid-scheme laws, and in Montana, ACN resolved the matter by agreeing to beef up training.
Mr. Trump said he never heard of any government allegations against the company.
ACN said in a written statement that a majority of its revenue comes from "actual, billing customers," and that participants "are only paid when they acquire a customer" and "do not receive any compensation whatsoever for recruiting." The company declined to answer additional questions about its compensation structure and business model.
ACN's published compensation plan shows that the company pays "bonuses" related to recruiting new people, after those recruits have secured a certain number of new orders for ACN services.
In addition to the $499 initial fee, ACN representatives are charged a $149 annual renewal fee, and they often pay $39.99 a month for a package of technology and marketing materials, plus extra fees to attend company meetings and conferences, according to ACN documents and materials posted by ACN participants online.
Robert FitzPatrick, a critic of multilevel marketing companies who has analyzed the company, said most participants end up losing money while only a few people at the top of the network get any substantial rewards. ACN said Mr. FitzPatrick's opinions are "misguided and unfounded."
Mr. Trump's endorsement helped entice people such as Donna Roberson, 47 years old, a disabled Army veteran near Tacoma, Wash., who signed up as an ACN independent business owner in 2011. In an interview, she recalled thinking at the time: "If he's pushing it, it's got to be a good company to get into. Yeah, we can make money at this."
Ms. Roberson, a single mother of four, said she lost as much as $2,000 on ACN. "I feel like it's a big scam," she said. "It was costing me more to stay in the company than what I was making."
ACN said "every company has critics" and it has "created tens of thousands of success stories around the world"—a sentiment echoed by Mr. Trump. Thousands of sales representatives attend annual conventions in Charlotte, where Mr. Trump frequently has been a featured speaker.
At one ACN event early this year, Mr. Trump received a standing ovation as the sound system blared "Money, money, money," the opening of an O'Jays tune that served as his former show's theme song. He said he had never heard from a single person who was unhappy about joining ACN, according to a video of the event posted on YouTube.
In a video posted on ACN's website last year but taken down this week, Mr. Trump said: "When evaluating a business opportunity, people need to look for strong leadership, a solid track record, success stories, a strong product people really need and want, and a clear plan for the future. ACN has all of these things."
Asked about that video, Mr. Trump said: "That is my opinion. They showed me a plan. They told me about the plan. It's been in business for 20 years. It has had a long-term business history. They have the same people and same management. I'm impressed with the people."
Mr. Trump told the Journal in 2008, in a previously unpublished interview, that he had been paid $2.5 million by ACN for a single speech. The company at the time declined to comment on his compensation.
In the interview this week, Mr. Trump wouldn't specify his speaking fees. "It is a substantial amount of money, even if you're rich," he said.
Jamie Gardner, 42, of San Diego, served as an ACN representative from 2010 to 2013. He said the Trump endorsement was "a major selling point" he used to entice new people into ACN.
"I ended up spending about $3,500 I didn't have," Mr. Gardner said. "I was spending maybe $150 a month just to get $10 in return."
Mr. Gardner sold gas and electric services to some customers. He said he made $1 a month from each of eight restaurants in a chain. He concluded that the only way to make any real money was to recruit others. "I just couldn't get anybody under me," he said.
In August 2010, Montana's securities commissioner filed for a cease-and-desist order against the company, alleging it was an "illegal pyramid scheme" and seeking to have it shut down. The filing said that 312 Montana participants in 2009 paid about $235,000 in various fees to ACN, but received less than $17,000 in compensation. According to the filing, of that $17,000, less than $900 was related to direct sales of telecom services to nonparticipants.
In the end, state regulators concluded that independent representatives were responsible for the activity at issue, and ACN resolved the matter by agreeing to train them more.
ACN said the figures cited in the Montana complaint were inaccurate. Once Montana regulators "understood our business model, which is focused on customer acquisition, they returned a quick, favorable resolution to ACN," it said.
ACN isn't required in the U.S. to disclose income figures for its participants, but it is in Canada, where it says average "active" participants made $500 in 2010, the most recent year for which it disclosed figures.
The ACN affiliate, Xoom Energy, whose services are sold by ACN representatives, is currently being scrutinized by the Maryland Public Service Commission. Maryland's Office of People's Counsel, which represents ratepayers, has accused Xoom of "deceptive and misleading trade practices." It alleged that Xoom promised electricity rate cuts of 7%, but instead rates went up. The office also alleged that many ratepayers were switched without authorization from flat-rate accounts to volatile variable-rate accounts. The office is seeking a $350,000 fine and at least $1 million to repay ratepayers.
"Few of the commission's previous enforcement actions involved harms on the scale Xoom has caused in this case," the people's counsel said.
The public-service commission's staff counsel found that while there were concerns, fine print on Xoom's website stated there were no rate guarantees. Xoom said all of its rates were disclosed. ACN said the price-spike problems were industrywide.
The matter is pending before a public-utility-law judge.