DoTerra To Host Single Largest Company Convention With 27,000 Attendees
September 2, 2015
By Tina Williams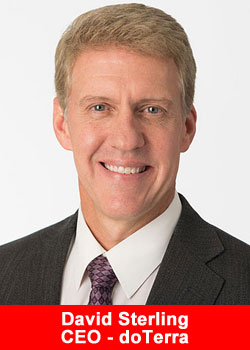 Wellness Advocates from all over the world plan to visit Utah for doTERRA's annual global convention next week.
On September 9, 2015, over 27,000 people from all over the world will gather in Utah to attend doTERRA's annual convention, the largest single-company convention to date for the state of Utah.
We are thrilled with the overwhelming response from our Wellness Advocates and look forward to a tremendous event, states David Stirling, doTERRA CEO. One of the most exciting elements of our convention is the opportunity to collectively reflect on the difference our attendees are making around the world and inspire each other to do even more in the coming year.

Our Wellness Advocates' efforts to share and educate on the benefits of essential oils in the communities where they live and work are profound. Moreover, doTERRA Co-Impact Sourcing™ projects are improving lives in places like Nepal, Haiti, and Somalia by empowering people to lift themselves from systemic poverty by providing long-term sustainable jobs.
In addition to the more than 27,000 attendees from the United States, we are expecting almost 1,500 Wellness Advocates from 34 different countries, states Kirk Jowers, vice president of corporate relations for doTERRA. We are pleased with our growing global presence, and have prepared for our international consultants by arranging for live translation into eight different languages.
Utah hotels and restaurants are gearing up for the event. doTERRA made arrangements for attendees to stay at over a dozen different hotels, and anticipates Wellness Advocates will book over 13,300 hotel nights and eat 324,000 meals during convention, generating tens of millions of dollars for the Utah economy.
doTERRA's director of events, Alyssa Balzotti states, Our team has worked through potential logistics and hurdles in order to ensure a seamless, organized, and memorable event. From purchasing 734 pounds of confetti for our gala to acquiring hundreds of yards of purple (our version of red) carpet. The 2015 convention will be sure to impress.
There is no other single-company convention in the state of Utah that comes close in terms of size and planning, states Emily Wright, executive vice president, sales and marketing at doTERRA. To accommodate our attendees, we will be holding our general session at two venues simultaneously: the Salt Palace and Energy Solutions arena, which is a first for doTERRA, and a first for Utah. We have worked for months to plan an event that will educate, motivate, and inspire.
About doTERRA
doTERRA® produces and distributes exceptionally high quality CPTG Certified Pure Therapeutic Grade® essential oils through more than a million independent distributors, also known as Wellness Advocates, around the world. doTERRA Co-Impact Sourcing™ provides local growers and distillers fair compensation for their efforts to create stronger local economies and a healthier, stable supply chain. In addition to a premium line of essential oils used by individuals and health-care professionals alike, the company also offers products that are naturally safe, purely effective, and infused with CPTG® essential oils, including personal care and spa products, nutritional supplements, and healthy living products.