Jeunesse Announces Newly Appointed President Of North America
September 25, 2015
By Tina Williams
Jeunesse Global, a leading direct selling company and provider of innovative anti-aging skincare and nutritional products that make up a Youth Enhancement System™, proudly welcomes Meredith Berkich as the company's new President of North American operations.
In 2014, Meredith appeared in Direct Selling News as one of the Most Influential Women in Direct Selling. She is also a contributing author to trade magazines including Direct Selling News and Networking Times, on the subjects of business strategy and personal development. Touting a 25-year success record, Meredith seeks to engage talents in strategic planning and sales force development, while utilizing her authentic leadership style to drive revenue.
Her mantra: The best developed strategies fail when individuals aren't empowered to execute. Meredith passionately believes that the world's challenges can be solved by celebrating the value of people and uniting their energy and talents.

"I've been following Jeunesse's compelling growth trajectory for some time, and I am privileged to join the Jeunesse journey. This company's compelling vision, high level of integrity, and appreciation for the sales force fully align with my core values. I am eager to contribute to the growth of this incredible community and add value to countless lives across the globe," said Meredith.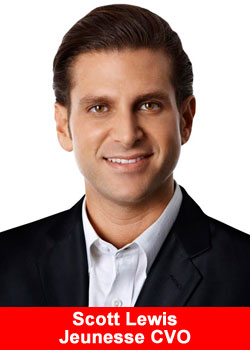 "We are pleased and excited to welcome Meredith to the Jeunesse family. Her knowledge and expertise will be of great value as we continue to develop our presence in the region. We very much look forward to the focus and support she will provide our Distributors, as they work to grow their businesses with a collective focus on making a positive impact in North America," said Chief Visionary Officer Scott Lewis.
About Jeunesse
Jeunesse is a leading direct selling company devoted to encouraging healthy living. Company research focuses on adult stem cell science, telomere support, DNA repair, fat loss technology and nutrigenomics. Products are made in the USA and are exclusively formulated for Jeunesse. With a multilingual customer service, back office support team, global enrollment system and in-house programming already in place, the company is fully operational in 32 offices around the world. Its distribution channels extend to over 100 countries. Jeunesse and the Jeunesse logo are registered trademarks of Jeunesse Global, LLC in the U.S. and/or other countries. For more information, please visit www.jeunesseglobal.com.
Follow Jeunesse on Facebook or Twitter
facebook.com/JeunesseHQ
twitter.com/JeunesseHQ