Mannatech Promotes Corporate Executives
September 6, 2015
By Team Business For Home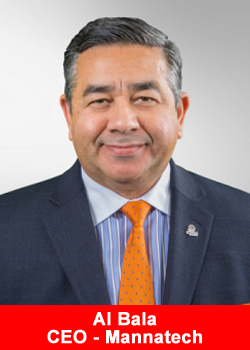 Mannatech, Incorporated, the pioneer of nutritional glycobiology and the global innovator of naturally sourced supplements based on Real Food Technology® solutions, today announced a series of executive promotions designed to fuel the company's continued global expansion and commitment to providing world-class support to its independent sales Associates and customers.
Under the leadership of new CEO and President, Al Bala, Joel Bikman has been promoted to the position of Senior Vice President of Sales and Marketing and Landen Fredrick has been promoted to the position of Senior Vice President of Supply Chain and IT. Additionally, Chris Simons, Regional President, will add North America to his areas of responsibility.
These promotions are a result of the company strengthening major elements of its external and internal business functions by leveraging the skills and talents of its senior executives.
"We are committed to supporting the entrepreneurial spirit of our sales Associates, and to do so we need to move quickly and on an international scale," said Bala. "These outstanding leaders will ensure we create a culture where our sales Associates can build the best, most stable, long-term businesses possible. By providing our sales Associates with results-driven leadership, we'll be able to elevate our sales Associates and continue to experience the revenue and profit growth we've seen during the last few years."
The company's Research and Development and Customer Service teams will be integrated with the Sales and Marketing department and report to Bikman, Mannatech's Senior Vice President of Sales and Marketing. Bikman has been with Mannatech since 2014.
"We want to provide a uniquely great product and brand experience for each of our Associates and their customers," said Bikman. "Aligning these departments will result in quick, visible, coordinated improvements in each interaction with the company."
Internal operations, including Mannatech's Information Technology group, will synergize with the company's Supply Chain and Regulatory Affairs organizations for greater agility and efficiency. The company's focus on IT and global positioning of its supply chain will provide a competitive edge for its sales Associates and further the company's international expansion into new, growing markets. Fredrick, Mannatech's Senior Vice President of Supply Chain and IT, will lead this effort. Fredrick has been with Mannatech since 2006.
"I am looking forward to bringing our Associates a high-performing team, which will focus on meeting their needs worldwide," said Fredrick. "This will increase our efficiencies to keep pace with our Associates' growth."
Mannatech Regional President, Chris Simons, will add North America to his list of oversight responsibilities, which currently includes Europe, South Africa and Australasia. Simons has provided pivotal leadership in these markets and in supporting the implementation of the company's 3-Point Plan system, which helps sales Associates advance their business and personal development. Simons' added responsibilities are part of Bala's vision to be more nimble in a dynamic global market, and provide best-in-class support to meet the needs of its sales Associates and customers. Simons has been with Mannatech since 2008.
"It is a great honor to be able to work with the incredible local leadership in North America. I am committed to do whatever I can to support Mannatech's growing sales force around the world," said Simons.
These new leadership responsibilities will be implemented immediately. Individuals interested in Mannatech's products or business opportunity can learn more at Mannatech.com
About Mannatech
Mannatech, Incorporated, develops high-quality health, weight and fitness, and skin care products that are based on the solid foundation of nutritional science and development standards. Mannatech is dedicated to its platform of Social Entrepreneurship based on the foundation of promoting, aiding and optimizing childhood nutrition where it is needed most around the world.
Mannatech's proprietary products are available through independent sales associates around the globe including the United States, Canada, South Africa, Australia, New Zealand, Austria, Denmark, Germany, Norway, Sweden, the Netherlands, the United Kingdom, Japan, Taiwan, Singapore, Estonia, Finland, the Republic of Ireland, Czech Republic, the Republic of Korea, Mexico, Namibia, Spain and Hong Kong. For more information, visit Mannatech.com