Ominto, Formerly DubLi, Establishes New Board Of Advisors
September 11, 2015
By Tina Williams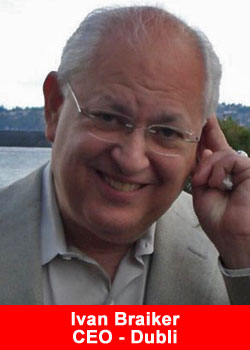 Ominto, Inc. (OTC PINK: OMNT), the global leader in online Cash Back shopping, today announced that it has established a Board of Advisors to provide strategic direction for the growing global company.
These six industry veterans, including Michael Lohner, Enoch Palmer, Ajay Pahwa, Bill Flury, Stephan Little and Brad Thatcher, will serve as ongoing advisors to the company's management team and Board of Directors.
The individuals making up the Board of Advisors have decades of combined experience and valuable insight in working for a variety of business growth and operational disciplines that directly affect Ominto, said Ivan Braiker, Ominto's President and CEO.

In putting together this group of talented individuals, we saw an opportunity to build a qualified team of experienced leaders who are experts in specific skill sets that will help our company as we continue to grow.

They have already made significant contributions through strategic counsel that is helping us better serve our customers, create partnerships, build value for our shareholders and strengthen our worldwide Cash Back portal and related Partner Programs.
Michael Lohner is an accomplished chief executive and entrepreneur with an exceptional track record of developing and leading successful growth strategies in a diverse set of businesses. He is currently an active chairman of Stella & Dot, a leading social selling and fashion accessories business.
Prior to this role, he led the company's initial development, branding, launch and growth phases as CEO. Mr. Lohner currently sits on the boards of and counsels Atigeo, LLC, a cloud, analytics, platform business as well as meet.fm, an internet social selling tools business. Earlier in his career, Mr. Lohner spent six years as CEO of Home Interiors and Gifts, Inc. a private equity-owned home décor direct sales company operating in the US, Canada, and Mexico where he was responsible for a successful turnaround.
Mr. Lohner's early career included time as a consultant at Bain & Company, one of the world's premier management consulting firms, and a Marketing Representative at Trammell Crow Company, where he was recognized as the top leasing agent in the Dallas/Fort Worth market. He earned his M.B.A from the Stanford Graduate School of Business, where he was an Arjay Miller scholar.
Enoch Palmer is a Founding Partner of Case Agency. Mr. Palmer began his design career founding the largest independent surf magazine in Hawaii. Since moving to New York City, his clients have ranged from retail design for Sephora and Bloomingdale's to worldwide clients such as Pepsi. He led conception and design for Time Warner's Real Simple Magazine.
Prior to founding Case, Mr. Palmer was Creative Vice-President for Aveda, where he led the integration of high-fashion aesthetics and environmentally-friendly design for the award-winning brand. He was with Aveda during its integration with Estee Lauder. His work is part of the permanent collection of the Smithsonian Cooper-Hewitt National Design Museum and has been featured in AIGA, Print, How, ID and Wallpaper. Mr. Palmer has a BA in Graphic Design from Brigham Young University.
Ajay Pahwa was previously the CEO of Kaya Skin and DRx Clinic where he was responsible for positioning Kaya Skin Clinic and DRx in India and international markets as premier brands in the beauty and wellness space. Today, Kaya Skin Clinic is the leading skin care solutions provider with 100+ stores in India, Bangladesh and the Middle East and DRx Clinic operates prestige skin care solutions clinic and medispa in Singapore and Malaysia. Earlier in his career, Mr. Pahwa spent almost 15 years with YUM Brands in India, most recently as General Manager of both the Pizza Hut and Taco Bell brands where he was responsible for Operations and Marketing. Prior to that, Mr. Pahwa spent four years as Chief Marketing Officer of Yum! Restaurants. Before joining Yum!, Mr. Pahwa was a customer service manager for Hyatt Hotels Corporations.
Bill Flury has more than 20 years' experience in High Tech including VP of i-Link, Xerox, Rolm, IBM, reporting to CEO of Adobe, Executive Director of Novell National Accounts/VAR's and five startups while raising over $175m as a founder, co- founder, and executive officer of public and private companies, NetLabs, Vertical Technologies, Accelera Wireless, Windsor Group and Celio Corp.
Mr. Flury created one of the first institutionally backed Asset Based Lending firms for Real Estate Developers, which reinvented the traditional financing model by blending debt and equity classes of development capital for more control, ownership and ROI to the fund resulting in less dilution for the developer than traditional equity financing. Mr. Flury is currently a Co-Founder and Principal in HighStreet Innovation, a global Private Equity Fund, which manages $1 billion in committed strategic capital. Mr. Flury graduated from the University of Utah with two degrees, Business Degree in Bachelor University Studies, New Business Development and Bachelor of Science in Sociology. He is a graduate of Stanford's post graduate High Technology Marketing Strategies Executive Program sponsored by Adobe.
Stephan Little is an acclaimed veteran entrepreneur who has founded and grown a multitude of successful ventures of virtually all kinds. Beginning with his first commercial venture at the age of 13, Mr. Little built a number of creative money-making commercial enterprises throughout his high-school and college years, including several highly successful venture investor-backed global software companies. Specializing in accelerating valuation growth and creating highly successful exits, he has personally led six successful startups to successful private acquisitions averaging at more than $100 million. He has also raised more than $1 billion in startup and growth funding for 11 different businesses in multiple industries. And he led the buy-side M&A team for a major technology innovator, where he acquired and successfully integrated nine companies in less than 12 months.
Brad Thatcher is Founder and CEO of Thatcher+Co., a New York City-based public relations firm. His experience spans both private and public sectors, crossing multiple industries and events, including technology, the Olympic Games, telecommunications, consumer electronics, private equity, energy, legal, nonprofit, food and beverage, fashion and healthcare.
As CEO of Thatcher+Co., Brad has joined forces with U.S. Ambassadors to spotlight business successes in a range of countries facing unique media challenges and opportunities. From Pakistan to Kuwait and Turkey to the Republic of Congo, he has organized media briefing efforts in multiple U.S. cities to promote Business Ambassadors from each country, resulting in widespread exposure of thriving entrepreneurs. Before creating Thatcher+Co., he was President of Coltrin & Associates, where he led communications teams behind three Olympic Games, the launch of the PSP for Sony, the spinout of Palm from 3Com and the buzz surrounding Ancestry.com. Mr. Thatcher holds a bachelor's degree in communications from Brigham Young University and speaks Spanish.
Ominto will include Ominto.com, an online shopping platform that will enable shoppers to earn Cash Back on all of their online purchases. Ominto.com will also support the Ominto Partner Program, which will operate both white label and co-branded sites on behalf of global businesses and non-profit partners. Powered by Ominto.com, these sites will act as powerful fundraising platforms for Ominto Partners, helping them diversify their revenue streams while building loyalty among shoppers, employees, investors and donors who earn Cash Back on everyday purchases.
Partnering with thousands of the world's leading shopping and travel brands, Ominto.com will provide members with a Cash Back earning platform for online purchases from their favorite shopping sites — without changing everyday shopping habits.
About Ominto, Inc.
Ominto, Inc. is a global ecommerce leader and pioneer of online Cash Back shopping, delivering value-based shopping and travel deals through its international network of shopping websites and Partner sites. At, Ominto.com or at Partner sites powered by Ominto.com, consumers will shop at their favorite stores, save with the best coupons and deals, and earn Cash Back with each purchase.
Ominto.com will feature thousands of brand name stores and industry-leading travel companies from around the world, providing Cash Back savings to consumers in more than 120 countries. Ominto Partner will offer a customized co-branded version of the Ominto.com shopping and travel platform to businesses and non-profits, providing them with a professional, reliable web presence that builds brand loyalty with their members, customers or constituents while earning commission for the organization and Cash Back for shoppers on each transaction.