Total Life Changes Hosts Atrévete 2015 In The Dominican Republic
September 8, 2015
By Nicole Dunkley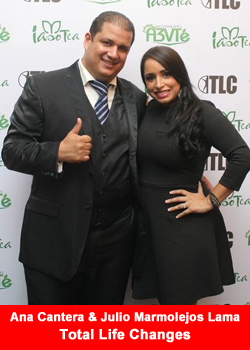 Just two weeks after an incredible business opportunity meeting and training in Bogota, Colombia, key leadership from Total Life Changes opened the doors to nearly 1,000 guests in Santo Domingo's Barceló Hotel & Resorts. The theme for this event was coined, "Atrévete 2015," which means, "Dare to Do it."
TLC's National Director, Ana Cantera and Regional Director, Julio Marmolejos Lama hosted a two-day retreat prior to the event with members of the leadership team and local TLC Directors in an exclusive Villa in Casa de Campo. They enjoyed beautiful accommodations and breathtaking views of Santo Domingo. It was the perfect combination of business and pleasure.
Leadership from North and South America gathered for an evening of Mastermind Training provided by President of North American Sales, Kenny E. Lloyd and the #1 Female Network Marketer in the industry, Stormy Wellington.
"These meetings are genuine. They are necessary. See, because, we know that TLC is going to be a top global company. We know this because we envision it. And what we are doing here is providing the blueprint for success. It's just an incredible thing to be able to sit down in the same room with so many intelligent people that have put their blood, sweat and tears into the success of TLC. I have so much respect for our general managers, like Darwin Almeida from Peru and Jose Jumbo from the Dominican Republic. These guys are so transparent in terms of their hunger for greater success in South America. And now TLC continues to secure top MLM leaders to further strengthen our markets in South America. I mean, Ana Cantera for example; she has a presence. Ana is positioning herself in TLC for long-term success. She joined TLC just a few months ago and already holds a position as a National Director. And her husband, Julio is not far behind that rank as I thnk he just reached Regional Director. That type of growth is contagious and that is the spirit that we need to capture while developing new entrepreneurs," explains Kenny E. Lloyd.
Total Life Changes leadership departed the Casa de Campo with vigor and a message as they prepared for Atrévete 2015 in the Salón La Fiesta Ballroom at the Barceló Hotel & Resorts on Monday, August 24, 2015. Guests arrived early for photos and an opportunity to secure the best seats available.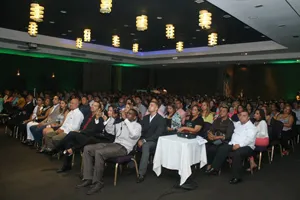 This meeting was dedicated to providing an overview of TLC, its positioning in South America and a detailed summary of the hybrid binary compensation plan and the products that provide the vehicle for independent business owner's success. Kenny E. Lloyd and Stormy Wellington acknowledged all of the attendees as visionaries and entrepreneurs with a hunger for success; they dared them to plug into the system and duplicate it.
"It is not just a suggestion to know your products. If you want to plug in and build a team and follow a system, you have to start with you. That's right, you have to lead by example and that means you have to be a product of the product. You have to have your own testimony of the results of these amazing products. You can't sell a dream looking like a nightmare. In order for people to follow you and trust you, you have to have the results and that starts the very same day you decided to join a health and wellness company like Total Life Changes," says Stormy Wellington.
TLC's growth in the Dominican Republic continues to ascend. Affiliates in Santo Domingo look forward to the grand opening of a new office. The final touches are being completed and members look forward to settling in very soon. This office is the direct result of the tremendous effort of local TLC affiliates in sharing the products and the business opportunity and they look forward to settling in very soon.
Total Life Changes offers an amazing line of health and beauty products along with a great business opportunity. TLC was created by CEO Jack Fallon 15 years ago with a single product, Nutraburst, and has grown to include our Iaso™ brand of products like our popular Iaso™ Tea.
Our hybrid binary system allows IBO's of TLC to quickly be compensated for introducing new reps to our products and business opportunity. The opportunity for you to feel healthier and flourish financially is what TLC is all about!