Trévo Prepares To Launch The United Kingdom
September 17, 2015
By Team Business For Home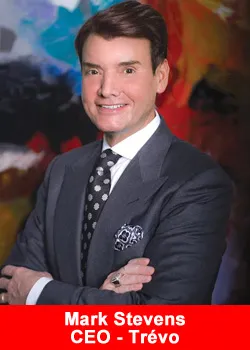 Trévo CEO Ready for European Leg of 2015 Tour.
Mark Stevens, the President and CEO of Trévo LLC, has been all over the world as part of his 2015 Extraordinary Lifestyle Tour, and next week he will add the United Kingdom to his list of tour stops.
Stevens will hit three different locations as part of a weeklong tour, starting with London on Tuesday, September 22nd.
The trip is being billed as the Trévo UK Vision Tour and will serve as a preliminary step in the company's upcoming expansion into the European Union. There still isn't a specific time frame for Trévo to actually launch in the UK, so this leg of the tour will serve strictly as a planning trip.
"We are thrilled about the prospect of extending Trévo reach into Europe," Stevens said.
"We know that the people there are excited to get their hands on the Trévo product, and we have proven over the last five years that ours is a brand that is capable of explosive growth.
I am excited to get on the ground in the UK and see the excitement for our brand and this industry."
Upon departing London, Stevens will travel to Milton Keynes for an event on Wednesday, September 23rd before rounding out this leg of his tour in Manchester on Thursday, September 24th.
Joining him will be several Trévo superstars, including the company's top network marketer, Trévo White Diamond, Segun Sosanya. At each stop, Stevens will be discussing the future expansion, and sharing his vision for Trévo UK.
While several steps still remain in the Trévo UK process, Stevens says there is real value in these types of trips when pursuing business in new territories.
ABOUT TRÉVO
Trévo's Founders are Mark and Holli Stevens who have a proven track record of over 16 years as owners of a successful network marketing company. Mark and Holli have also been on the "other side of the table" as independent representatives, building organizations with tens of thousands of members. This dynamic duo also possess nearly four decades of combined business ownership expertise.
Trévo's proprietary blend of over 174 premium nutraceuticals, including maqui and acai berries, mangosteen, amalaki fruit, gotu kola, ashwagandha and a cornucopia of other fabulous nutraceuticals. In fact, Trévo has developed the only nutritional supplement in the world to combine and harness the power of such a remarkable array of vitamins, minerals, "supergreens," antioxidant-packed fruits and vegetables, coral calcium, and herbs from around the globe.
Based in Oklahoma, USA Trévo LLC is powered by a global network of many thousands of energetic and excited Life and Health Coaches.
For more info please visit www.trevocorporate.com