XANGO Launches Aeris Anti-Aging Solution
September 12, 2015
By Nicole Dunkley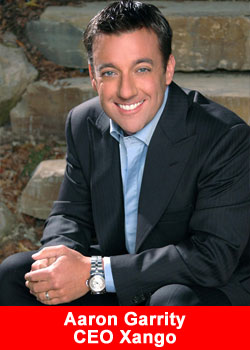 Global wellness and direct sales leader XANGO at its global convention at the MGM Grand Resort & Casino launched a complete anti-aging solution: XANGO Aeris™. Featuring a three-step system to reverse the signs of aging, Aeris firms skin around the eyes, and reduces signs of fine lines and wrinkles. Aeris' Marine Collagen Complex optimizes the body's natural collagen production with formulas that feature marine collagen, mangosteen and traditional herbs.
Aeris follows in the XANGO tradition of advancing wellness and youthfulness through innovative formulas based on the nourishment of mangosteen and other leading botanicals, said XANGO Founder and CEO Aaron Garrity. Pre-launch users of Aeris are knocking years off their appearance and regaining their youthful confidence by following a simple, three-step process that boosts their natural collagen levels. Aeris stands out in an emerging market as a premium skin care and ready-mix drink line designed to help people reverse the signs of aging and feel great again.
XANGO Aeris is clinically proven, dermatologist-tested and hypoallergenic. The Aeris line features three products to address anti-aging: XANGO Aeris™ Instant Eye Gel, XANGO Aeris™ Eye Renewal Concentrate and XANGO Aeris™ Marine Collagen Complex.
XANGO Aeris™ Instant Eye Gel
Instant Eye Gel utilizes regenerative vitamin B12 and natural minerals to lift and smooth away appearances of fine lines and wrinkles, under-eye bags and puffiness in just minutes. Its light texture allows for quick absorption for instant results.
Using Aeris Eye Gel is simple: consumers just apply a thin layer to the eye area with fingertips and spread gently, allowing the skin to absorb for a few minutes. Aeris can be used in the morning or as needed.
XANGO Aeris™ Eye Renewal Concentrate
Eye Renewal Concentrate uses clinically proven formulas to redefine the body's natural collagen makeup, stimulate circulation, and reduce the signs of inflammation with a unique combination of peptides, vitamins and rich plant oils. Over time, users enjoy firmness, freshness and radiance that increases with consistent use.
Complimenting Instant Eye Gel, Eye Renewal Concentrate is clinically proven to reduce the appearance of fine lines and wrinkles, increase collagen synthesis and help reconstruct healthy and youthful skin, strengthen skin density to reduce eye bags, and stimulate circulation to reduce dark circles.
In clinical trials, consumers have achieved best results by gently applying Eye Renewal Concentrate to the eye area twice each day, once in the morning and again in the evening.
XANGO Aeris™ Marine Collagen Complex
Marine Collagen Complex is the natural (and clinically proven) way to slow down the clock and help people age beautifully, from the inside out. To achieve these results, this product blends pure hydrolyzed marine collagen peptides with hyaluronic acid, glucosamine, vitamin C and traditional herbs to promote healthy skin, hair, joints and bones.*
The Marine Collagen Complex features the following benefits:
Promotes natural production of collagen for firm, smooth, resilient skin while improving hydration.

Provides cellular protection and promotes healing from within with a unique blend of herbal ingredients.

Delivers comprehensive nutritional benefits with antioxidants, micronutrients and peptides.

Gets faster results with hydrolyzed collagen peptides for improved absorption and efficacy.
Marine Collagen Complex is available in powder form for easy, daily consumption. Users mix one packet with six ounces of water, shake or stir well and then drink immediately. For optimum nutrition benefits, people are advised to drink on an empty stomach and avoid eating for an hour.
Taken together, the Aeris product line provides a clinically proven 5-in-1 solution to address major signs of aging, and it also boosts the body's natural collagen production. Consumers looking to address fine lines and wrinkles, under-eye bags and deep wrinkles, dark circles and uneven skin tone, dull and uneven texture, and dryness now have a clinically proven, comprehensive system that can provide visible results.
Aeris is designed to support healthy, youthful skin and protect it from various issues caused by aging, stress and lifestyle, said XANGO Board Member Beverly Hollister. We know we are more successful in our daily living when we look and feel better, and our collagen levels play a key role in maintaining our youthful vigor. Aeris reverses the aging process and helps us feel young and vibrant again.
About XANGO, LLC
A leading global nutrition company, XANGO, LLC, is a recognized leader in health and wellness products. Currently expanding into a wider range of botanicals, XANGO was the first company to market a premium mangosteen beverage, XANGO™ Juice, to consumers worldwide. XALO™ Ageless by XANGO complements XANGO Juice to fight aging at the cellular level and rejuvenate the body and mind. XANGO's roster of premium, functional products also includes FAVAO™ by XANGO; the XANGO 3SIXTY5™ multi-vitamin with a powerful Active Defense Complex featuring Primactive™; Glimpse™ Topical Skin Nutrition; Eleviv™ for natural, youthful vigor; Juni™ by XANGO™ Family Care with natural, toxin-free personal-care products for the entire family; and the Precis™ line of targeted nutritional supplements. XANGO is privately owned and powered by a global network of more than 2 million independent distributors in the U.S. and nearly 50 international markets, including Canada, Mexico, Australia, Japan, Russia, South Africa and more.