27-Year-Old Darryl Drake Reaches Global Director Rank, Now Earning Over $70k Monthly With Total Life Changes
October 29, 2015
By Nicole Dunkley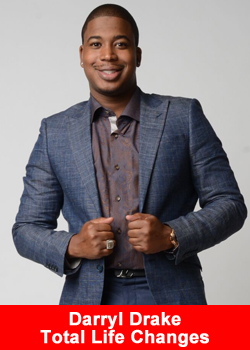 Some people just seem to be destined for success. Others work tirelessly to achieve it. In the case of this young man, he says it's in his DNA. Darryl Drake was introduced to network marketing at the age of eighteen.
He was eager, enthusiastic and surrounded by successful family members, which was his formula for success. Now in his late twenties he has found a place he can call home with Total Life Changes.
Drake summarizes how he was introduced to Total Life Changes:
Industry leader Stormy Wellington contacted me ten months ago. She recently joined Total Life Changes and was hosting a TLC Business Opportunity Meeting in Atlanta, Georgia. She explained that founder and CEO, Jack Fallon would be there and that I should consider speaking with him, because I told Stormy I had reservations about joining.
To be quite honest, I was exhausted that day; by the time I arrived to the meeting after taking a red-eye flight, I was just looking forward to it ending, so I could politely say, "No thank you," and be on my way. But Stormy handed me a couple of capsules of TLC's Iaso™ NRG and said, "Take these," and in less than twenty minutes I was feeling exhilarated. Seriously, I had never taken a product like this. Suddenly I had clarity, focus and interest in really listening about the other products that Total Life Changes offered. And when Stormy Wellington reviewed the compensation plan, I turned to CEO Jack Fallon and asked, "Is this for real?"
I finally found a company with a CEO that was truly passionate about their products. TLC products could sell themselves with or without an opportunity attached to it. I chose to build a business with TLC because I recognized that there was strong, authentic leadership in place, the company has been debt-free for over sixteen years and most importantly the products worked.
Drake has been traveling to major cities across the country with several top leaders in his organization along with coach & mentor, Stormy Wellington. Together they are bringing the products into the hands of men and women of all ages looking to make a shift in their life.
Whether it be to improve their health or restore their financial position (or both), they are sharing their results of this shift in their lives and the many lives they have impacted since making the decision to join Total Life Changes. They discuss their "why" with everyone they meet. They speak about how TLC is a vehicle for restoration, a means to improve not only their health but also the health of the thousands of families they have already touched.
For example, Drake sponsored Candace Byrd-Davis and her husband Javon Davis, months ago from Pittsburgh, Pennsylvania. Candace was very coachable and already had experience in the network marketing industry. But more importantly, she immediately became a product of the products and led by example, which quickly drew much attention across all of social media.
It didn't take Candace long to build a strong and committed team of her own and today she can proudly say that Total Life Changes has truly blessed her and her family. Candace has built a very solid team of business partners that has propelled her rank and her income. Candace and Javon are one of two couples that have earned over $100k in only eleven months under the direction of their upline leader, Mr. Darryl Drake. Javon was able to retire from one of the most dangerous occupations in the world on June 30, 2015.
He spent years waking up every morning and traveling more than 700 feet underground to work in the coalmines. Though it was a very profitable career, typically earning over $120k annually, Candace could not take the emotional distress and explained to Javon months ago that her "why" was to get him out of that incredibly dangerous occupation and working by her side to help build her business at home.
Darryl Drake gives thanks the #1 Female MLM Networker in the entire industry, Stormy Wellington, for bringing him to this opportunity with Total Life Changes. He is thankful to Jack Fallon for having this vision of helping families across the globe to improve and maintain their health with affordable products and an opportunity to earn an income by building a home-based business.
"I feel secure in my future. I mean, I wake up everyday excited to build this company and help people make total life changes. I've been fortunate to help feed and clothe over 1,000 families in Africa because of TLC. I've witnessed my own family members transform their bodies because of TLC products. And because of the simplicity of the TLC business model, many of my business partners are earning more part-time with TLC than they did working full-time in their current career," says Darryl Drake.
Find out how you can partner with Darryl Drake by emailing: [email protected] for more information.
Total Life Changes offers an amazing line of health and beauty products along with a great business opportunity. TLC was created by CEO Jack Fallon over 16 years ago with a single product named, Iaso™ NutraBurst, and has grown to include our Iaso™ brand of products like our popular Iaso™ Tea. Our hybrid binary system allows IBO's of TLC to quickly be compensated for introducing new reps to our products and business opportunity. The opportunity for you to feel healthier and flourish financially is what TLC is all about!
Come see for yourself. Join us for The TLC Awards & Next-Level Training in January 2016.