Beautycounter Joins Environmental Working Group to Launch Product Safety Certification
October 31, 2015
By Nicole Dunkley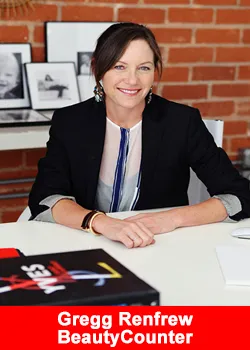 Beautycounter has found a like-minded partner in Environmental Working Group (EWG), the nonprofit environmental and health group known for its research on toxic and potentially harmful chemicals in consumer goods. The nontoxic beauty brand is taking part in EWG VERIFIED, a new program to help shoppers easily identify safe personal-care products.
Henceforth, products that meet the group's highest standards will bear a green EWG VERIFIED seal. EWG has compiled an extensive list of harmful ingredients, similar to Beautycounter's Never List, banned by U.S. or international government agencies and other public health organizations.
To gain the group's stamp of approval, products must adhere to those restrictions. Companies also must follow good manufacturing practices and fully disclose product ingredients on their packaging and websites.
The point-of-sale initiative builds upon the success of EWG's Skin Deep database, which provides safety ratings on a wide range of personal-care products. California-based Beautycounter, along with skincare brand MyChelle Dermaceuticals, is helping to launch the EWG VERIFIED program as a founding member.
"Beautycounter is mission-driven—we use a rigorous ingredient selection process to ensure we're making safer, effective skincare and beauty products, while simultaneously working to move the market and policy toward cleaner, healthier ingredients," Gregg Renfrew, Beautycounter Founder and CEO, said in a statement. "Early participation in the EWG VERIFIED program is in full alignment with who we are."
The program fills a regulatory void in the market, where companies can introduce cosmetics products and ingredients without the approval of the U.S. Food and Drug Administration. In a statement, EWG President and Co-Founder Ken Cook said the group aims to expand its certification program to additional product categories, including household cleaners and food.