Jason L. Scott – Industry Leader Joins Total Life Changes
October 14, 2015
By Nicole Dunkley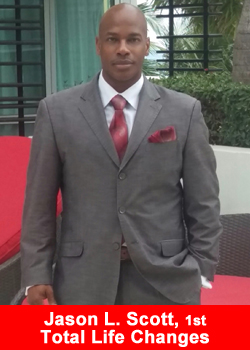 Jason L. Scott 1st is a highly sought after MLM leader and mentor. Growing up in the projects of the Bronx, New York, he has defied all odds to become one of the industry's top one-percent earners.
Jason's career in the military as a U.S. Army paratrooper at Fort Bragg, North Carolina has instilled discipline, mental fortitude and organization, which has helped him develop into a product of self-development with proven methods of accelerated success strategies.
Jason has become an international mentor in advanced leadership. He is an author of the #1 Best Seller, "Network Marketing for Facebook". He has helped tens of thousands of entrepreneurs overcome adversity through specialized training in personal accountability, clarity and focus, enhanced productivity and personal power.
As a renowned author, speaker and entrepreneur since his mid-teens, Jason L Scott 1st has risen to national prominence. He travels nationally and internationally delivering high-energy, high-impact messages and brilliant life stories that explain to people, "Your past will dictate your future if you keep letting excuses and mediocrity dictate your present."
Jason has developed leaders and teams into the tens of thousands around the world. His travels include Iceland, United Kingdom, Italy, the Caribbean, France, and all of Latin America where he has generated teams of over 100,000 worldwide in his career as a trainer, coach and mentor. He has empowered average everyday people into extraordinary six-figure income earners.
Jason explained why he has decided to join Total Life Changes:
"That's why I love TLC… there's no science to learn, so a few testimonials posted Online from all eight industries we tap into, especially our Flagship Detox Iaso™ Tea, has literally created the customer turnover of a traditional business while helping tens of thousands of people earn tens of thousands of dollars from their Click and Order, home and phone-based business. In thirty years of networking, I've never seen anything like it. That's why I call it www.7figures7monthsTea.com.
We finally have a compensation plan for the average, every day, non-network marketer to win. 50% Fast Start, 50% Matching and 50% Retail from Online Sales are the basic building blocks that have helped so many people win in this company. I'm a master at teaching people, from the newest industry person to the most talented networker.
I'm very hands-on and I love helping people set their 30, 60 and 90 day financial goals. And it's such a rewarding experience observing them achieve those goals. Helping people own their lives is what I was put here on this planet to do, so help me help you!"
If you would like to be mentored or personally partner with Jason L. Scott 1,st join his NuGlobal Dynasty International Organization now and be a part of their fast growing Project100KRevolution…100 Thousand Families, 100 Thousand Free! Please call or email NOW:
Phone: (910) 257-4760
Email: [email protected]
Website: www.jasonlscott1st.com
Purchase: "Network Marketing for Facebook"
About Total Life Changes
Total Life Changes offers an amazing line of health and beauty products along with a great business opportunity. TLC was created by CEO Jack Fallon over 15 years ago with a single product, Nutraburst, and has grown to include our Iaso™ brand of products like our popular Iaso™ Tea.
Our hybrid binary system allows IBO's of TLC to quickly be compensated for introducing new reps to our products and business opportunity. The opportunity for you to feel healthier and flourish financially is what TLC is all about!