Martin White Reaches National Director Rank Working Part-Time With Total Life Changes
October 1, 2015
By Nicole Dunkley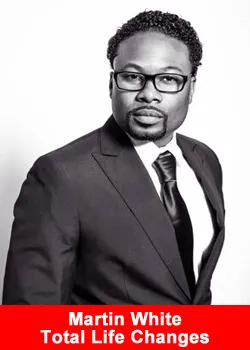 Full-time employment has not gotten in the way for Martin White, TLC's newly recognized National Director. Martin works forty hours a week in a traditional career. As a native of Houston, Texas, he earned his degree from Sam Houston University just over ten years ago and entered into a career just as many young men and women aspire to do.
But the reality is, the cost of living and raising a family has increased dramatically, while the average salary for someone employed more than two years at the same company is decreasing.
According to Forbes, "The worst kept secret is that employees are making less on average every year. There are millions of reasons for this, but we're going to focus on one that we can control. Staying employed at the same company for over two years on average is going to make you earn less over your lifetime by about 50% or more."
For this reason, more and more professionals are seeking opportunities to earn additional income while maintaining a career in order to provide for their families and enjoy additional security over the course of their careers. Martin became interested in network marketing soon after he graduated and joined his first company in 2006, where he met an incredible mentor who taught him the principles and philosophies of success, which is testament to his success today. The secret to Martin's success is his dedication to hosting home parties.
Martin White made a decision to join Total Life Changes after being introduced to the company's hero product, Iaso Tea™. TLC's Executive Ambassadors Erwin & Twiler Portis sponsored Martin after sharing the Iaso Tea™ and the business opportunity with TLC. He received immediate results within the first twenty-four hours and knew that this was a product people would benefit from and that it would really sell itself.
Martin stated:
"I was taught to believe in building relationships with people face-to-face. And with the number of impactful products that TLC has to offer, it makes my home parties a great success. I typically schedule four home parties each week. It is very informal. I simply share the products and the opportunity with my guests. There is no reason to try and convince people about the results of the products. I am a product of the product. I have partners in my organization that are living testimonies of what can be achieved with continued use of our health and wellness products. People can see the vision right away and are equally interested in the products and the business opportunity."
Martin anticipates on building his organization to 10k members by the end of 2016 and has aspirations of reaching 50k members in total. He is managing his time between his first career, his wife, two beautiful children and now his goals to retire and live a lifestyle of luxury thanks to TLC.
Total Life Changes offers an amazing line of health and beauty products along with a great business opportunity. TLC was created by CEO Jack Fallon 15 years ago with a single product, NutraBurst, and has grown to include our Iaso™ brand of products like our popular Iaso™ Tea. Our hybrid binary system allows IBO's of TLC to quickly be compensated for introducing new reps to our products and business opportunity. The opportunity for you to feel healthier and flourish financially is what TLC is all about!