Zrii Releases New Mobile App
October 27, 2015
By Nicole Dunkley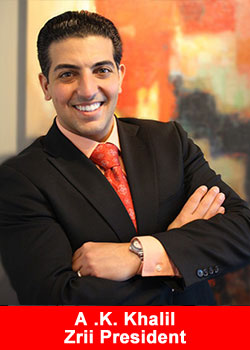 Zrii International, a global leader in health and wellness products, announced today the release of a brand new mobile app to support its large and growing global community of Independent Executives.
The new Zrii app will allow distributors to shop for products; enroll customers and Independent Executives; access key business metrics and reports; learn about important upcoming events; and receive training from top leaders and key corporate executives; among other features.
We know that this business is not done from behind a desk, says Zrii President A.K. Khalil. Our distributors are out in the world and on-the-go: holding meetings, taking phone calls, and doing in-person trainings in all kinds of places. Our mobile app is a major step forward in allowing our Independent Executives to do their business anytime, anywhere.
The release of the new Zrii mobile app is just the beginning of a multi-step process to improve the experience of Independent Executives and customers across a variety of company platforms. Corporate executives indicated that the mobile app would be expanded and updated over the coming years to accommodate additional markets, a broadening product lineup, better training and education, increased community interaction, and more.
Our growth over the past 3 years has been nothing short of extraordinary, remarked Zrii Founder and CEO, Bill Farley. In a way, we are catching up to the momentum we're already experiencing – momentum which by all projections will continue to increase over the coming years. And we're fueling that momentum with initiatives that make a big difference in our distributors' lives.
About Zrii International
Zrii was founded in 2008 with the goal of helping people learn how to live without limits. From life-changing opportunities for personal and financial success, to premium-quality products that support an active lifestyle, Zrii is empowering people to make their dreams come true all over the world. Zrii is proud to have partnered with the world-renowned Chopra Center for Wellbeing, headed by Dr. Deepak Chopra, and bestselling author Chris Gardner, to people across the United States, Canada, Australia, New Zealand, Malaysia, and Central and South America.