4Life Announces New Platinum International Diamonds
November 18, 2015
By Nicole Dunkley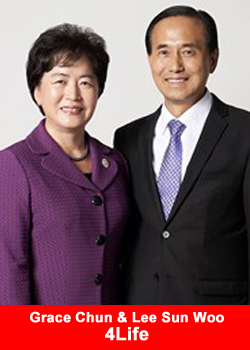 4Life executives announced the advancement of Grace Chun and Lee Sun Woo of South Korea to the rank of Platinum International Diamond, the company's highest rank. This represents South Korea's second Platinum International Diamond advancement and the company's fifteenth overall.
Mrs. Chun and Mr. Lee were convinced of the possibilities for success with network marketing more than a decade ago. At the time, however, they were unable to find a suitable opportunity to pursue in South Korea.
"One day, I met International Diamond Tina Kang and Platinum International Diamond Dr. Jase Khyeam," remembers Mrs. Chun. "They introduced me to 4Life. As I gathered details about the company and 4Life Transfer Factor®sup> products, I knew that this is where we belonged."
Mrs. Chun believes that true success encompasses more than financial wealth. As an 4Life independent distributor, she's grown personally as a wife and mother and maintains a deep appreciation for her family and everyone who has supported her along the way.
South Korea General Manager Tony Lee: "Mrs. Chun and Mr. Lee provide us with a superior example of what is possible when we commit ourselves to the principles of success. They attend meetings and conventions. They work tirelessly with their downline. They help others, and in doing so, have earned their place among our company's greatest leaders."
When asked for advice about building a successful 4Life business, Mrs. Chun points to the importance of patience, self-sacrifice, love, service, and an unselfish commitment to others.
President and CEO Steve Tew: "As our second Platinum International Diamonds in South Korea, it's an honor for me to recognize the contributions that Mrs. Chun and Mr. Lee have made to the marketplace and more importantly the impact they've had on the personal and professional lives of so many people throughout the country, region, and world. On behalf of Founders David and Bianca Lisonbee and our entire corporate team, I congratulate them on achieving this pinnacle of success."
About 4Life
In 1998, 4Life Founders David and Bianca Lisonbee launched the company's flagship immune system support product, 4Life Transfer Factor. As the first network marketing company to do so, 4Life's leading group of doctors, scientists, and researchers continue to advance immune system science with innovations in product formulation, production standards, delivery methods, and more. Today, people in more than 50 countries enjoy the immune system support of 4Life products.