Cambridge Weight Plan Distributor Named Direct Selling Star UK
November 11, 2015
By Team Business For Home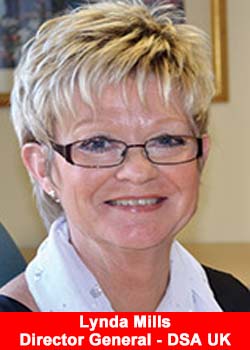 Rose Bunce, aged 54 from Dorchester, has been named the Direct Selling Star of the Year at the first ever UK Direct Selling Awards. Hosted by the trade body for direct selling in the UK, the awards recognised eight of the most outstanding direct sellers in the country at a ceremony held at Whittlebury Hall on 6th November.
With more than 400,000 people now working as direct sellers in the UK, the industry is continuing to grow in prominence as a real alternative to traditional employment. More people make money through direct selling than any other type of part time work.
Rose Bunce, a direct seller with Cambridge Weight Plan, was awarded the title after impressing judges with her tireless work to build her business, improve how she works and help and support new direct sellers in the industry.
Rose suffered a life changing assault by four men while working as police officer which left her with severe injuries and forced her to give up her job. Having been previously successful on the Cambridge Weight Plan diet, Rose started direct selling to family and friends. Her business took off and even when she relocated to Dorset she turned to social media and networking to continue to grow her client base and business.
Lynda Mills, Director General of the DSA said: "Rose is a shining example of the power and potential of direct selling. With no other income she had to make a success of her new business and she did not only that, but has now become one of the brightest stars of the direct selling industry in the UK. Congratulations to Rose on both her business and winning the award."
The awards were judged by Saira Khan, from The Apprentice, Tricia Philips, the Daily Mirror's award-winning small business editor, Kalpana Fitzpatrick, financial journalist and founder of MummyMoneyMatters.com and Lynda Mills, Director General of the DSA.