ForeverGreen Reports Q3 2015 Results -Sales Up 4.6% To $16.6 Million
November 18, 2015
By Nicole Dunkley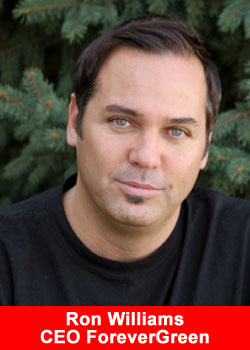 ForeverGreen Worldwide Corporation, a leading direct marketing company and provider of health-centered products, announced today financial results for the third quarter ended September 30, 2015.
Third Quarter Financial Highlights
Sales increased to

$16,606,907

from

$15,880,244

for Q3 2014, a 4.6% increase
Gross profit rose to

$12,723,987

compared to

$12,499,786

during Q3 2014
Operating loss was

$278,462

compared to operating income of

$317,263

Net loss totaled

$371,401

or

$(0.01)

EPS versus a net income of

$203,343

or

$0.01

EPS
Excluding non-recurring costs, net loss totaled

$371,401

versus net income of

$203,343

during Q3 2014
Interest expense decreased to

$76,633

or 0.5% of sales compared to

$113,101

or 0.7% of sales during Q3 2014
Deferred revenue of

$1,785,338

compared to

$171,885

for

December 31, 2014
Third Quarter Highlights
Banned Substances Control Group (BSCG) certified PowerStrips as free of banned substances

Company pre-launched leading-edge weight loss program, Ketopia, resulting in

$1M

in sales in the first 12 days and over

$4

MM in sales to date
Company officially launched entity in

Brazil

, one of the top five markets in the industry

Company established local distribution and local pick-up centers in several African countries

National news outlets, CNN ireport and

USA

Today shared Company video highlighting Ketopia benefits
Highlights for nine months, ending September 30, 2015, included:
Sales increased to

$49,884,864

versus

$40,544,486

, a 23% increase
Gross profit rose to

$37,769,200

from

$31,710,515

, a 19.1% increase
Operating loss was

$1,039,763

versus an operating income of

$996,624

during the first three quarters of 2014
Net loss totaled

$1,482,820

or

$(0.06)

EPS as compared to a net income

$839,250

or

$0.04

EPS during the first nine months of 2014
Interest expense decreased to

$215,849

compared to

$258,359

during the comparable period in 2014
Total assets increased to

$10,442,462

from

$7,709,633

on

December 31, 2014

Total liabilities increased to

$10,623,055

from

$8,086,341

on

December 31, 2014
During July we pre-launched our Ketopia product system in North America. This launch resulted in several non-recurring costs we do not expect to see in the future. The immediate success of the product surpassed our expectations, creating a backlog. Our shareholders will note a dramatic increase in deferred revenue at the end of the quarter. Had all orders been delivered, the Q3 financial report would have significantly been impacted in a positive way. The backlog has since been resolved and product is currently shipped within 24 hours of ordering. Going forward, we expect sales of Ketopia to increase dramatically. We will officially launch this product in January and have begun introducing it around the world, commented Jack Eldridge, CFO of ForeverGreen.
Additionally, the introduction of our Farmer's Market line into new countries will continue to increase sales. We expect our profitability and gross profit margins to increase by several percentage points as we work diligently to add more to the bottom line. The fourth quarter and beginning of 2016 should see considerable growth in revenues and profit margins, he continued.
About ForeverGreen
ForeverGreen Worldwide Corporation develops, manufactures and distributes an expansive line of all natural whole foods and products to North America, Australia, Europe, Asia, Africa and South America, including their new global offerings, PowerStrips, SolarStrips and BeautyStrips. They also offer their new North America weight management line Ketopia, along with Azul and FrequenSea, whole-food beverages with industry exclusive marine phytoplankton, a line of hemp-based whole-food products, immune support and weight management products, Pulse-8 powdered L-arginine formula, 24Karat Chocolate.