Global Future City Appoints Ran Qi Jun Marketing Director In China
November 27, 2015
By Team Business For Home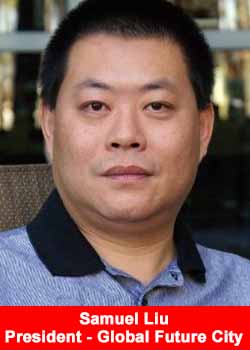 Global Future City Holding Inc. has appointed Ran Qi Jun as the Marketing Director of Mainland China to promote the multi-level marketing (MLM) business of its wholly-owned subsidiary, GX-Life Global, Inc.
Ning Liu, CEO and President of the Company commented, We are delighted that Ran Qi Jun has joined our team to help us quickly expand into the MLM market in Mainland China. We feel that the integration of the GX-Coin digital security into our membership compensation plan will set us apart from other MLM businesses. With the help of Mr. Ran's expertise and contacts in the MLM business, we should be able to reach a wide range of audience in Mainland China at a rapid pace.
Ran Qi Jun has over 15 years of experience in the marketing industry, with a focus in the MLM sector. Mr. Ran has been involved in the MLM business since 1999 and operated in dozens of different direct marketing companies. He had single-handedly built a team of 1,000 people within a period of 2 months. Mr. Ran graduated from Chongqing Business University in 2000. He studied Business Management at Qinghua University EMBA from 2008-2010, where he also served as the regional director of the university in its Chongqing branch. Mr. Ran also served as the honorary professor of Chongqing Shi Fan University. After years of education and accumulated experience, Mr. Ran developed his own set of universal business method, in which he teaches to people who wish to succeed in the MLM business.
About GX-Life Global, Inc.
GX-Life Global is in the process of developing a robust, scalable platform to support multi-level marketing opportunities throughout the world. GX-Life Global plans to utilize GX-Coins which are an open source digital security that functions as a store of value and a medium of exchange. These coins are being registered by its strategic partner, Great Coin, Inc. GX-Life Global plans to deploy the GX-Coins it acquires from Great Coin by distributing them to members of their MLM program community as loyalty points for the members' participation in the MLM program. Members of GX-Life Global will be able to redeem their status points, reward points, and status reward points for GX-Coin at 100% of their points' dollar value. Each member of the MLM program will be issued a GX-Life Global-branded debit card and a separate wallet that holds GX-Coins. Additionally, holders of GX-Coin will be able to use their GX-Coins to purchase products offered by GX-Life Global.