LegalShield Applauds Consumer Federation of America
November 21, 2015
By Team Business For Home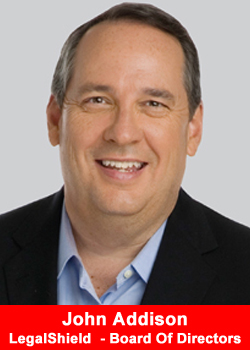 Jeff Bell, CEO of LegalShield, who recently joined the Direct Selling Association (DSA) board of directors applauded Consumer Federation of America on its updated Best Practices for Identity Theft Guidelines.
We are pleased that the Consumer Federation of America (CFA) has released an updated version of the Best Practices for Identity Theft Services, which encourage for-profit identity theft service providers to follow responsible practices.
IDShield has provided identity theft protection to consumers for more than 12 years and the risk of security breaches and identity theft is at an all-time high. Our customers are at the center of everything we do; now more than ever it is imperative that consumers understand what risks they face and exactly what help they can expect from service providers if and when one's identity is compromised.
Bell reinforced the company's commitment to helping ensure the industry has the right measures in place to make both consumer protection and positive purchase experience everyone's first priority.
We are also proud that our partner since 2003, Kroll was part of the work group that contributed to strengthening the consumer guidelines. Since the partnership between LegalShield and Kroll began, we have safeguarded more than 1 million members, provided more than 200,000 personal identity consultations, and helped restore nearly 10,000 individual identities.
About LegalShield
LegalShield is one of the nation's leading providers of legal safeguards for individuals, families, and small businesses. LegalShield also offers one of the industry's most affordable identity theft plans, with identity theft protection for the entire family for the cost most competitors charge to cover a single individual. LegalShield legal plans cover more than 1.4 million families and 3.7 million lives across North America.
More than 34,000 companies offer the LegalShield plan to their employees as a voluntary benefit. For as low as $20 per month, LegalShield members get access to attorneys with an average of 19 years of experience in such areas as family matters, estate planning, financial and business issues, consumer protection, tax, real estate, benefits disputes and auto/driving issues. Unlike other legal plans or do-it-yourself websites, LegalShield has dedicated law firms in 49 states and four provinces in Canada that members can call for help without having to worry about high hourly rates. In 2013 alone, LegalShield firms received more than 1.8 million calls from members.