Talk Fusion Associate Embraces Culture Of Giving Back
November 11, 2015
By Nicole Dunkley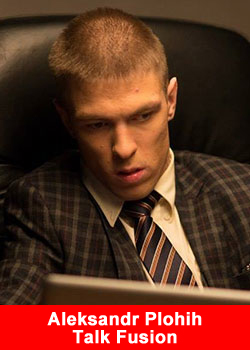 When Talk Fusion Associate Aleksandr Plohih of Russia speaks about helping others, people listen. That's because, at times, Aleksandr has needed plenty of help himself.
"I know the true value of life," he explained, "as I am a disabled person and overcame a lot of operations."
Diagnosed with cerebral palsy at birth, Aleksandr's condition was once so severe that he couldn't even sit up, much less speak. His school lacked proper accommodations for the disabled, so Aleksandr completed training on his own to become a computer programmer. Today, he pursues his passion for technology by sharing Talk Fusion video products with others and helping them attain their dreams.
Aleksandr's inspiring story doesn't begin or end with his own condition. Far from it. Talk Fusion's Business Opportunity and unique suite of video products have given the 23-year-old the ability to live life on his own terms. Today he splits his time between leading his team of Independent Associates and helping others in need.
"Giving back is so important," Aleksandr said. "Talk Fusion helps a great deal of people, and I have always had a dream to help people, too."
That spirit of generosity came sharply into focus when he was contacted on social media by Rinat and Natalya, a couple in St. Petersburg, Russia. Their young son Misha was very ill from serious nerve and muscle damage that affected his development and health. Aleksandr was immediately inspired to help, but it wasn't going to be easy.
Given the distance from St. Petersburg to Aleksandr's hometown of Arkhangelsk – about 750 miles, a 14-hour trip by car – Misha might as well have been on the other side of the world. Nonetheless, Aleksandr was more than sympathetic; he was mobilized to action.
The couple needed 50,000 rubles for Misha's critical care in Moscow: a little less than $800 American, but a small fortune in the Ukraine. Aleksandr made a contribution himself and also sent Talk Fusion Video Emails to raise awareness and inspire others to help.
Talk Fusion Associates rallied to the cause. Within just a few days, fellow team members in Russia and Grand Blue Diamonds Cedric Penn and Ron Wright of the USA donated the remaining funds.
Today, Misha is on the road to happier, healthier days. His parents were overwhelmed and expressed their appreciation for the unexpected help they received through Talk Fusion.
"Misha's parents told us that we are people with great hearts," said Aleksandr. "We managed to save their child's life."
Aleksandr is a classic example of Talk Fusion's corporate culture of Giving Back and has set up fund-raising to continue to assist Misha and his parents. Aleksandr's community admires him for his unrelenting determination to be a great leader, and he is an inspiration to team members, Talk Fusion Associates around the world, and others who live with disabilities.
"The moment I joined Talk Fusion, my life changed," he said. "My experience proves that anyone can be successful in this business. I tell people, 'Look at me – I can't walk or run. You have legs! Go out there and embrace this opportunity. If I can do it, so can you.'"
ABOUT TALK FUSION
A global leader in Video Communication Products, Talk Fusion is dedicated to changing lives through unmatched life-sharing solutions provided by proprietary, patent-pending video technology.
Talk Fusion's innovative products are marketed person-to-person by independent Associates in more than 140 countries.
Founded in 2007 by CEO Bob Reina, Talk Fusion introduced the world's first Instant Pay Compensation Plan. Talk Fusion adheres to the highest ethical business practices and is a member of the prestigious Direct Selling Association (DSA). Reina firmly believes that "with great success comes greater responsibility."
Talk Fusion fosters a strong commitment to Giving Back to friends, family, communities, and animal charities across the world to produce a positive global change. Learn more at www.TalkFusion.com and "Like" Talk Fusion at www.facebook.com/TalkFusion.
Income Disclaimer:
Any earnings portrayed in any Talk Fusion marketing materials are not necessarily representative of the income, if any, that a Talk Fusion Associate can or will earn through his or her participation in the Talk Fusion Instant Pay Compensation Plan. All references to income, implied or stated, throughout the Talk Fusion Instant Pay Compensation Plan are for illustrative purposes only. These figures should not be considered as guarantees or projections of your actual earnings or profits. Talk Fusion does NOT guarantee any level of income or earnings to any Associate; any representation or guarantee of earnings would be misleading. The purchase of a Talk Fusion Product Package is completely optional and is not required for an Associate to participate in the Talk Fusion Instant Pay Compensation Plan.