Youngevity Names Dave Briskie New Corporate President
November 3, 2015
By Team Business For Home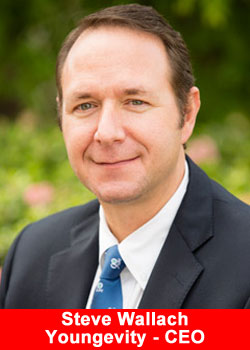 Youngevity International has announced major appointments to its leadership structure. Dave Briskie assumes the position of President, Brad Kenson has been appointed to the position of Chief Technology Officer and Alex Theis has been appointed to the position of VP of Distributor Relations and Training.
Steve Wallach, Youngevity CEO, following the resignation of Bill Andreoli, immediately set out to fortifying his executive team.
Dave Briskie is the ideal choice as President of Youngevity and I could not be more confident to have him as our President and CFO. Dave's previous experience, prior to Youngevity, included all C-Suite positions including 15 years as CEO of an international business. He has extensive public company experience, proven international experience, he will continue to lead our acquisition strategy and oversea our coffee operations. With nearly 10 years of direct selling experience and a highly respected CFO, Dave has agreed to lead our company into the future. Mr Wallach said, Dave Briskie and I are totally aligned and I know he will work tirelessly to move Youngevity forward on all fronts.
Dave Briskie stated, I am honored to take on the position of President of a company with an esteemed 19 year history. I am proud to work alongside Steve Wallach and I am humbled to carry Doctor Joel Wallach's message around the Globe. I am confident that our diversified trailblazing business model, when fully deployed, will build upon Youngevity's legacy and I firmly believe our best years are ahead of us.
The company also announced Brad Kenson will serve as the Chief Technology Officer of Youngevity. Mr. Kenson has over 25 years in the technology space with extensive website, e-tailing, order processing and back office development expertise. Recently Brad Kenson developed Youngevity's much acclaimed MK Collab e-boutiques and My Anthology web experience. The company announced plans to open an office by the end of the year in California's technology corridor with plans to build an industry leading web, mobile, and back office development team.
Finally, the company announced that Alex Theis will take on the positon of VP of Distributor Relations and Training. Alex Theis comes to Youngevity with extensive experience having worked in almost every area of the industry. His experience includes directing large customer service teams, developing sales initiatives, international management, commissions, IT/web, compliance, events, and distributor relations. He has worked extensively with million-dollar earners, becoming an advocate for tools, communication, and training. In addition, Alex has become a passionate spokesperson for the Distributor Force.
Alex's expansive time in network marketing also includes speaking and training in North America, Asia, and Australia, and working with distributors in those areas, as well as, Europe and Central America. He has played a pivotal role in helping companies develop growth, improve communication, and increase employee and customer retention.
Alex has an intense passion for personal development and helping people grow, which led him to create an internationally-downloaded podcast called Limitless, found on iTunes, Stitcher, and Hipcast.com. He is also author of the book Stop Pitching & Start Connecting: Social Media Strategies for Network Marketing, an Amazon bestseller.
The additions of Alex Theis and Brad Kenson, adds two talented and highly qualified executives on our management team, said Steve Wallach. Our software development initiatives and our commitment to field training is a key goal moving into 2016 and we are proud to add this level of talent to Youngevity. He continued, We wish Mr. Andreoli well in his future endeavors and appreciate his contribution to Youngevity over the last 4 years.