Forbes Profiles India Hicks Direct Sales
December 8, 2015
By Team Business For Home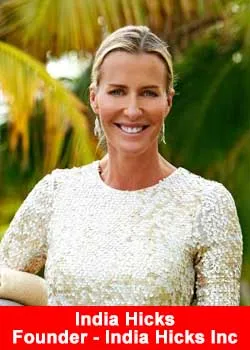 Forbes magazine has profiled British aristocrat and designer-entrepreneur India Hicks who has recently launched an eponymous direct selling company promoting her island lifestyle fashion accessories.
India Hicks is no stranger to living life off the beaten bath. The former Ralph Lauren model left her British aristocratic life in London to live on a small island in the Bahamas with her partner, David Flint Wood and five children. Inspired by her "runaway island story," she has launched a lifestyle collection aptly named India Hicks Inc., encompassing a range of fragrances, jewelry and accessories.
But you won't find her collection on the shelves at your local department store. In addition to being found online, the collection is available through direct sales. Hicks has canvassed the country to find ambassadors to represent her brand, much like Avon or Mary Kay, creating a new generation of ladies who sell at in-home parties.
After several collaborations in the jewelry and beauty worlds, Hicks was inspired to set off on her own with her new brand India Hicks Inc.
"I met a fascinating man, who was one of the founding partners of The Carlyle Group, who had had a remarkable business career and had mentored women entrepreneurs," Hicks said.

"He watched me working for HSN selling bedding, and designing fine jewelry, and collaborating with Crabtree & Evelyn on two beauty collections… And yet he said to me 'You should really be doing more.' This was interesting because where I come from in England, you don't often hear people telling you to do more. You're expected to live quietly in the countryside, being a dedicated mother and wife, driving your children to school and attending local charitable events… He encouraged me to think about building my own company and stretching myself entrepreneurially.

There was something in what he said that made me think it was the time to walk away from the licensing arrangements and to really create a business that I could build into something significant. Knowing I could not do this alone I partnered with Konstantin Glasmacher, a serial entrepreneur and developer of innovative and disruptive business models, and Nicholas Keuper, who was a Managing Director and senior partner in the Los Angeles office of the Boston Consulting Group."
In addition to being available on her site, Hicks has created the opportunity for women to use her brand to become entrepreneurs themselves.
"Knowing I wanted to launch a lifestyle brand, it was suggested to me by my partners that we should look at a direct sales model," Hicks said. "That was not a route that had ever occurred to me, but when I began to dig a little deeper, I suddenly felt that there was a huge opportunity here, a white space that could be filled. No one was telling a lifestyle story, no one was concentrating on affordable luxury, and no one was addressing a vast group of smart savvy women who had once had successful careers but had given it up in order to raise their children but were now ready to take on something new again, but doing it on their own terms and in their own time."
"I met with several of my own girlfriends who were frustrated by the fact that they had given up careers to raise a family – which they had found extremely rewarding, of course – but now with their children slightly older they wanted to do something again with their lives, something meaningful but they didn't want to invest their own personal capital or write a business model, they didn't want to have to have the endless sleepless nights of creating a start up," Hicks said. "So, the two came together at the same moment: the idea of direct sales, and recognizing that I had all of these smart, savvy girlfriends looking for something entrepreneurial," Hicks said. It was rather like the perfect storm. And now I'm here, and I couldn't think of myself in any other place
India Hicks' unexpected life has been an inspiration for her collection, having left the aristocratic world of London for a secluded life on a small Bahamian island.
"My collections are very much inspired by my own life, my British heritage and what I call my runaway island story," Hicks said. "We often say to our tribe of Ambassadors: live a more extraordinary life, stand on your own two feet, do something for yourselves…I always say that I haven't necessarily lived an extraordinary life, but I've certainly lived an unexpected life. Having come from a rather traditional upbringing to then find myself living on a tiny island in the middle of a tropical ocean was certainly not what I expected. So I draw from those two sides of my life, and I think that that gives our brand something very unique, and sets us apart from anything else out there. We tell stories."
Hicks believes it was natural fit for her to launch her brand with beauty products, accessories and jewelry. "I knew I wanted to start with beauty because it was a world that I really understood," Hicks said. "I worked for nine years with Crabtree & Evelyn and it was a fantastic education. I had worked with a team of people, and what I loved about it was that it was a small, boutique, but global company. It gave me a little insight into working in corporate America. But more than that, it taught me what I didn't want in my collections. I knew that I didn't want parabens or sodium lauryl sulfate. I knew I didn't want synthetic dyes and colorants. I knew I wanted as natural of a collection as I could possibly get. Crabtree & Evelyn also taught me about price points and my audience… So I felt very comfortable in the world of bath and beauty."
"I also knew that I wanted to start with accessories because there was no sizing involved, and sizing is a bloody nightmare," Hicks said. "I was very lucky to have Ralph Lauren as a mentor, and he very generously introduced me to his factory. So we were able to manufacture all of our handbags through the Ralph Lauren factories, which meant that we were able to go out with a very high quality product at a more affordable price. Jewelry I also understood –having previously designed a fine jewelry collection. Again it's something that doesn't involve too much sensitive sizing!"
India Hicks has big plans for continuing to grow her collection to encompass more categories in the future. "One of the things that sets us apart in this business is that we are a lifestyle brand," Hick said. "Unlike other companies that may be just a vitamin company, or a cooking company, or a jewelry brand, we are lifestyle. Which means that we can really go in any direction at all. Already you can see that there's quite a mix of categories – the fact that we range from handbags to beauty to scarves to accessories to jewelry – who knows where we'll go in the future."
As for the holiday season, Hicks just hopes for quiet time at home with her family. "It would be really nice to have a good night's sleep!" Hicks said. "It will be really nice to be at home, in one place, without having to catch a red-eye to the next city… I just want to be at home with my kids, without having to think about getting through stinking airport security
Originally published here.