Heather Chastain Named President Of Shaklee U.S. And Canada
December 17, 2015
By Nicole Dunkley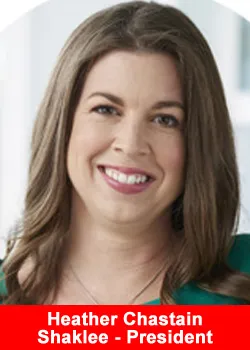 Shaklee, Nutrition and personal care products seller has brought on Heather Chastain as President of Shaklee U.S. and Canada, a role supporitng the growth and success of Independent Distributors in the company's key North American markets.
Shaklee's new President brings 20 years of experience in direct selling, most recently as Senior Vice President and Chief Sales Officer at another personal-care and wellness brand within the industry. In a statement, Shaklee describes Chastain as an executive with a "strong, collaborative and relational style of management and leadership." Her previous roles have included responsibilities in sales, marketing, manufacturing and operations.
"We are very fortunate to have Heather join our Shaklee family. She is a superb executive with a proven track record of generating growth in the direct selling industry," Chairman and CEO Roger Barnett said in a statement. "In addition, she is truly a delightful person and will be an outstanding partner to me and our entire Shaklee family."
Over and above her corporate roles, Chastain has provided leadership to the wider industry by serving on the board of the U.S. Direct Selling Association (DSA) and as Chair of the DSA Ethics Committee.
"Shaklee is an iconic brand in our channel with outstanding products and a strong track record of integrity and innovation," said Chastain. "It's exciting and such a privilege to be working with this group of professionals to help create the next chapter of growth for this legendary company."
Pleasanton, California-based Shaklee reported revenue of $844 million in 2014, earning the No. 21 spot on this year's DSN Global 100. The century-old company operates in eight markets through a network of 1.25 million Independent Distributors.
About Shaklee Corporation
Shaklee, headquartered in Pleasanton, CA, was founded in 1956 and is a leading direct-selling company of natural products designed to create healthier lives. Shaklee has established a reputation for developing unique, superior health products which are safe, pure and effective, and has published more than 90 peer-reviewed studies in scientific journals.
Shaklee offers a vast product portfolio of more than 100 products across nutrition, household, and personal care categories. These products, along with the Shaklee Business Opportunity, help people all over the world lead healthier, more prosperous lives, which it calls The Shaklee Effect™.
Shaklee was the first company in the world to obtain Climate Neutral® certification and fully offset its carbon emissions, resulting in a net-zero impact on the environment. The Shaklee relationship selling model offers flexible business opportunities for those who choose to share products with their families and communities. Shaklee generates revenue from product sales through more than 1.2 million Shaklee Family members worldwide.