Nerium To Be Featured On Cover Of January 2016 Success From Home Magazine
December 3, 2015
By Nicole Dunkley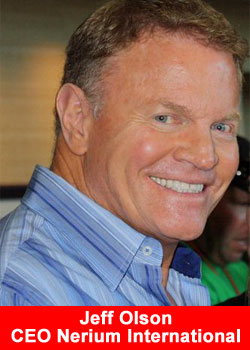 Nerium International, a leading relationship marketing company specializing in scientifically backed, age-defying products, is featured as the cover story and throughout Success from Home magazine's January 2016 issue, which highlights the exponential success and unrivaled opportunities that Nerium provides.
Success from Home magazine routinely features successful relationship marketing companies and the unique opportunities the industry presents. This marks the fourth issue of Success from Home magazine to feature Nerium since the company's launch in 2011.
Success from Home features Nerium in an extremely powerful way. The magazine is replete with articles about Nerium International, including products, Brand Partner profiles and Nerium's industry-leading executive team. Additional topics include a closer look at Brand Partner rewards, opportunities for young entrepreneurs, innovative digital tools for Brand Partners, the company's continuous, fast-paced international expansion and its dedication to giving back through its partnership with Big Brothers Big Sisters of America and World Vision International.
"Each time we are featured in Success from Home, we are both honored and thrilled," said Nerium International Founder and CEO Jeff Olson. "There are so many aspects to the Nerium story, and we are so excited to have Success from Home highlight each of the key parts of our business."
Since its establishment in 2011, Nerium International has experienced immense growth and success. Starting with just one product in its portfolio, Nerium exceeded $100 million in sales in its first year alone. Since then, Nerium has grown to develop a product portfolio that features anti-aging products for the face, body and mind and has achieved a groundbreaking $1 billion in cumulative sales in under four years. The company also debuted at No. 12 on the Inc. 500 list earlier this year and boasts markets in the U.S., Canada, Mexico and South Korea. Nerium ensures that its Brand Partners are set to succeed by providing the tools, training and exclusive products for them to run their own successful business without having to worry about traditional business logistics.
"It is such a pleasure to feature Nerium International in our magazine. Nerium is a remarkable company that is not only successful, they are changing lives," said Shelley Rojas, Success from Home's Editor in Chief. "We are delighted to provide in-depth coverage of the company, its products and Brand Partner opportunities. Nerium offers incredible possibilities for success that we love to share with our readers. The company is truly changing the face of direct selling."
About Nerium International
Nerium International, LLC, headquartered in Addison, Texas, is a relationship marketing company that markets breakthrough products validated by science. Since its August 2011 launch, Nerium has reached record-breaking sales and earned industry accolades, while building a loyal customer base of millions in the U.S., Canada, Mexico and South Korea. Nerium debuted on Inc. magazine's 34th annual Inc. 500 List of America's fastest-growing private companies as the No. 1 consumer products and services company. Nerium was also ranked No. 12 on the list overall. Led by an award-winning executive team with more than 220 years of collective industry experience, Nerium International is committed to developing and distributing anti-aging products that are rooted in real science, produce real results and improve consumers' lives. For more information, please visit https://www.nerium.com.