Susan And Simon Ko – Ambit Energy Top Performers
December 6, 2015
By Team Business For Home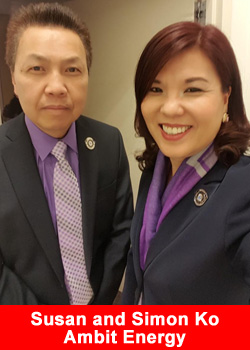 Ambit Energy Top Earner Steve Thompson says about Susan and Simon Ko:
While MLM success is simple, it is not easy.
However, if you are consistent and persistent in your efforts while continuing to work on both Personal Development and Network Marketing Skills, you can achieve a lifetime of of Freedom and Success.
Susan and Simon Ko are doing just that. I received this note about a moment early in their career when they had their doubts. However, they continued to go to training and visit with mentors. It paid off!
It is so nice when you find that Training and a few words of encouragement can help someone get through tough times and reach toward Financial Freedom.
Executive Consultants (EC) Susan and Simon Ko have become great Leaders and are helping so many people as they have already reached Executive Consultant and are now working toward National Consultant. They are constantly mentored by EC Henry Ye and are building fast. We wish them the very best of success and look forward to watching the impact they have on their Team and Ambit as they build.
We congratulate them on their promotion and continued success .
Susan ans Simon Ko says:
As the 1st generation immigrant arriving in the states in the early mid 70s both my husband and myself knows how it is like to adapt to an unfamiliar new life. In any event, we settled down and now is one big happy family with daughter Natalie who is a CPA working in Silicon Valley, and our son Curtis working overseas in Hong Kong.
We kept looking for our American dream, we owned & operated dry cleaners in the early 80s to mid 90s and continue to look for opportunities. In 2005' we were both offered jobs to work in a local casino as card game dealers. Our income was not bad at all, in 2009' we bought our 2nd house in San Francisco. It is seemingly likely that we will just work 10+ more years and than retire.
Susan & Simon Ko with their Mentors Henry & Rita Ye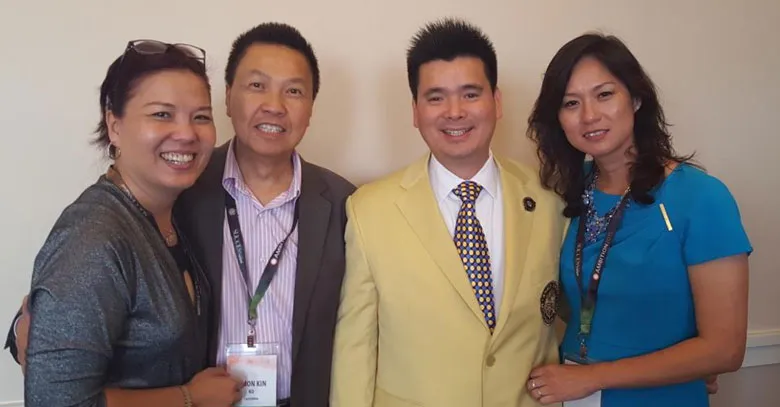 In Feb 2013 we started our Ambit journey in California hoping that income from this part time business would make up the shortfall between our regular jobs and our social security benefits when we do retire. As time goes on our Why started to evolve, from having a vehicle to help customer save money, help partners make money & we make money.
To act like a messenger to share/convey the message of re-distribution of wealth under energy deregulation to as many people as possible.
Life is full of unknowns, In Aug 2013 I loss my job of 8 years because a car accident that prevented me from working. Its only then i realized that having Ambit is a gift from God and made me believe that everything happens for a reason. Last July Simon quit his job and we went to New York to pursue Ambit full time. Little would I know that we will be promoted to Fast Track EC in short 4 months after we both worked Ambit full time.
We have been so blessed that now everyday and every minute we are together as partners and as a happy couple going about it. Everyday doing Ambit and being able to travel up & down east coast to support our teams. Now our lives is so full of meaning, joy and happiness and we are able to share this American Dream with so many people. To be able to tell them its possible as long as working hard and follow the system. Believe to Achieve
We would like to thank Henry Ye for his great leadership and our 5 SCs : Wing Yan Kei (NY), Donna Doung (MA), Xiu Xing Bu (CA), Yammy Zheng (NY), Dikang Ruan (NY).
Contact details Susan and Simon Ko:
https://www.facebook.com/susancyko