Thirty-One Gifts Plans Mega Product Premiere
December 4, 2015
By Team Business For Home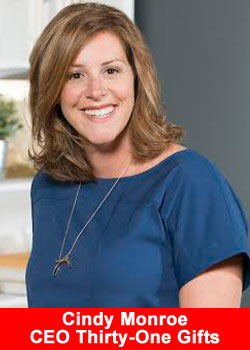 Tens of thousands of guests are expected to flock to theaters across the U.S. and Canada December 5 for a product premiere presentation by Thirty-One Gifts. Guests will discover new prints and products Thirty-One will introduce in the coming spring/summer season, being unveiled publicly January 2.
The premiere will occur in 275 auditoriums and will provide sales training for Thirty-One Gifts' independent sales consultant field of more than 85,000 people and their guests. The mass product premiere event is unique in the direct sales industry.
Thirty-One specializes in stylish and functional purses and totes, home organization solutions, travel bags, a line of artisan jewelry and much more, most of which can be personalized. They are the 28th-largest direct-selling company in the world, and 14th-largest in the U.S.
Thirty-One Gifts' products are sold by more than 85,000 independent sales consultants at home parties, and 45,000 of them will attend the premiere at 275 movie theaters. The collective economic impact of the mass event is estimated at more than $1.6 million.
Those attending will see Thirty-One's new spring/summer collection come to life on film and the company will for the first time reveal new upcoming products to sales consultants. Thirty-One expanded their product line within the last year to include new premium faux leather purses called Jewell by Thirty-One, and a line of artisan jewelry called JK by Thirty-One.
This is the best, most exciting way to give our sales field the tools they need to help find solutions for their customers' personal, family and home organization and fashion needs, and more, explains Cindy Monroe, founder, president and CEO of Thirty-One Gifts. Our product premiere allows thousands to see the reveal of our new products and patterns at once, and to be able to share that information with their customers at home parties in 2016.
The video includes new products that are both functional and on-trend, according to Thirty-One's fashion forecasting for spring and summer. Many new items accommodate busy moms' lives on the go, and include a new palette of bright seasonal colors.
Guests also will learn about the opportunities that come with being a Thirty-One Gifts independent sales consultant where, for a $99 start-up expense, they can own their own business and earn extra income.