Yanbal CEO Explains 3 Aspects To Globalize A Business
December 15, 2015
By Team Business For Home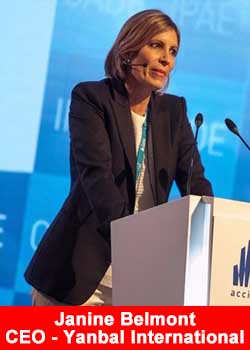 Janine Belmont, chief executive of Peruvian direct selling and cosmetics giant Yanbal International explained the three most important factors a Peruvian business needs in its journey to become a global business while speaking at a panel at CADE 2015, a business forum for the main representatives of Peruvian businesses. Yanbal has a track record of more than 40 years in Peru and a presence in 10 countries globally.
1. Products and relevant business model
It is critical to have products of the highest quality. And for this we must work with the best materials and the best local and international suppliers." She said.
To have world-class products it is essential to have a significant investment in research and development. A Peruvian company that wants to be competitive must invest in innovation through research and development," she said.
She explained that Yanbal decided to establish its innovation centers abroad, mainly in the United States and France, to be closer to global trends in product development. A company should be consistently reviewing and updating the value proposition of its business model and ensure that it is attractive for the markets in which it operates.
What is also very important is that we participate in local and international associations so that, we are coordinating efforts with our local counterparts, she said.
2. Flexibility
Belmont said a company must always be ready to adapt to changes in the rules in a country and must constantly be listening to its stakeholders.
The good thing is that Peruvian entrepreneurs have learned to adapt. We are resilient, creative and quick. By our own example, when Peru's military government imposed severe restrictions on imports in order to promote and protect local production, we adopted direct selling as our marketing model, providing women with an opportunity for economic and professional growth that did not then exist, she pointed out.
3. Strategic Corporate Platform
Belmont explained that companies must have a hub that includes a single model for business, brand management and organizational culture, and have a unified technology platform, as this facilitates the management of the business.
We must have leaders and committed teams working with the over-all corporate strategy to manage sustainability in all the markets in which we operate, she said.