4Life Celebrates New Gold International Diamonds Luis Mario And Guadalupe Nevárez
January 19, 2016
By Nicole Dunkley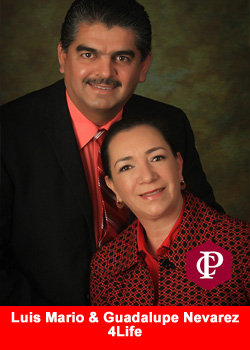 4Life executives proudly announced the advancement of Luis Mario and Guadalupe Nevárez from Mexico to Gold International Diamond, the company's second highest rank.
"Achieving this position has filled our hearts with joy and happiness. We are committed to teamwork, developing a strong presence in the field, and maintaining a strong vision," said Luis.
Luis and Guadalupe became 4Life distributors in 2006 after learning about the business opportunity from Luis's cousin.
They became connected to the International Networkers Team and embraced the chance to develop a better future and serve others.
Through sharing 4Life products, Luis and Guadalupe have developed their business through consistent discipline and daily focus.
Luis and Guadalupe enjoy spending time together as a family with their two daughters, Lilian and Marlen, and their granddaughter, Ana Luisa. One of their most meaningful experiences with 4Life was when they became Silver Dollar Award recipients at Covention 2015: Bring Dreams Home.
President & CEO Steve Tew: "It's my pleasure to celebrate the success that Luis and Guadalupe have achieved and to congratulate them on advancing to the Gold International Diamond rank. Luis and Guadalupe are truly committed to building a strong business and offering meaningful support to their team members."
About 4Life
In 1998, 4Life Founders David and Bianca Lisonbee launched the company's flagship immune system support product, 4Life Transfer Factor. As the first network marketing company to do so, 4Life's leading group of doctors, scientists, and researchers continue to advance immune system science with innovations in product formulation, production standards, delivery methods, and more. Today, people in more than 50 countries enjoy the immune system support of 4Life products.