4Life Makes New Additions To Executive Team
January 22, 2016
By Nicole Dunkley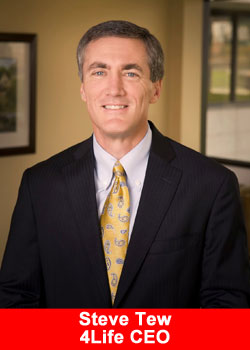 4Life recently announced that Trent Tenney will assume the role of Senior Vice President, Worldwide Sales. He will work closely with the international team and assume responsibility for the U.S. Field Development team, Distributor Services department, and worldwide Foundation 4Life® activities.
"Trent's background in marketing and sales will give the company strong leadership in generating high-level value propositions, tools, and relationships that drive our business," said 4Life Founder and Chairman of the Board David Lisonbee.
With Trent's new responsibility over worldwide sales, Chief Operating Officer Danny Lee will assume responsibility over the marketing department.
Danny has a proven record of success working at 4Life as evidenced by enhanced distributor support, increased productivity, and the implementation of effective systems while serving as Chief Operating Officer.
President and CEO Steve Tew: "I'm confident that Danny and Trent will play key roles in driving our ongoing growth and development. I am truly excited about the future and look forward to continuing on our path to becoming stronger as a result of these changes."
About 4Life
In 1998, 4Life Founders David and Bianca Lisonbee launched the company's flagship immune system support product, 4Life Transfer Factor. As the first network marketing company to do so, 4Life's leading group of doctors, scientists, and researchers continue to advance immune system science with innovations in product formulation, production standards, delivery methods, and more. Today, people in more than 50 countries enjoy the immune system support of 4Life products.