Laguna Blends Appoints Ray W. Grimm Jr. To The Advisory Board
January 20, 2016
By Nicole Dunkley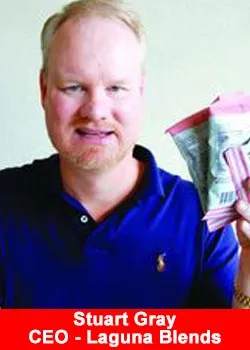 Laguna Blends Inc. announces that Ray W. Grimm, Jr. has been appointed as a consultant to Laguna Blends Inc. and added to its advisory board. Mr. Grimm is a direct selling / multi level marketing expert.
Mr. Grimm is a veteran entrepreneur with more than a quarter century of experience building some of the top nutritional and weight loss companies in direct sales history.
Mr. Grimm has what many consider to be the Midas touch in building multimillion dollar companies, three of which exceeded $50 million in sales within their first five years. In 2011, Mr. Grimm also created and co-founded one of the fastest growing weight loss brands ever developed producing $10 million in sales in its first year.
His vision, leadership and expertise in nutrition, weight loss and direct sales are unmatched and so is his unique formula for success all of which have benefited the physical and financial health of thousands.
Ray has extensive experience in managing operations, sales, training and marketing of fast growing companies. He is a proud member of the DSA (Direct Selling Association) and founding member and current member of the MLMIA (Multilevel Marketing International Association).
Laguna Blends welcomes Ray W. Grimm, Jr. as a consultant. Ray's depth of experience and previous track record is impressive. Ray will assist Laguna with consulting and advisory related services, commented, Stuart Gray, President and CEO.
About Laguna Blends Inc.
The Company's business is focused on the nutritional health benefits derived from hemp. Laguna is a network marketing company that intends to generate retail sales through independent affiliates. Affiliates utilize tools and technology that enable them to build an international business from their own home or while travelling. The first products to be launched are functional beverage products that provide high levels of protein and or nutrition.