Tupperware Reports Q4 2015 Results – Sales Up 2%
January 27, 2016
By Nicole Dunkley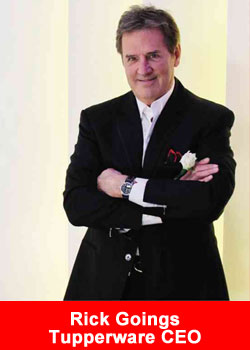 Tupperware Brands Corporation today announced fourth quarter 2015 operating results. Rick Goings, Chairman and CEO, commented, We had a disappointing quarter as we lapped a tough comparison and continued to see an impact from economic and political headwinds in many of our units.
While I don't want to take away from the strong performances in a number of units, our internal actions did not overcome the impact of worse than expected externals in some of our units.
Goings continued, Given today's environment, we're making some defensive moves to allow us to perform financially and to play better offense in implementing our growth strategies.
We remain confident the strong fundamentals of our business model coupled with these actions will set a path to success for our 3.1 million global sales force, our associates and for delivery of value to our shareholders.
Fourth Quarter Executive Summary
Fourth quarter 2015 net sales were

$592.1 million up 2% in local currency and down 13% in dollars. Emerging markets**, accounting for 63% of sales, achieved a 4% increase in local currency. The most significant contributions to the fourth quarter growth were in Argentina, Brazil, China, and Tupperware Mexico. Established markets were down 1% in local currency, primarily from France and Italy, partially offset by good performance in Germany and Tupperware United States and Canada

.

GAAP net income of

$58.1 million, was down 29% versus prior year net income of $82.3 million. Excluding the impact of foreign currency rates on the comparison, adjusted net income was down 1% versus prior year.

Adjusted diluted earnings per share of $1.35 was 2 cents below the October outlook range including an additional negative 5 cent impact versus 2014 compared with the guidance from changes in foreign exchange rates. Adjusted earnings per share was down 22% versus last year in dollars, including a negative 36 cent

impact from changes in exchange rates on the comparison.

Total sales force of 3.1 million was up 5% versus prior year at the end of the quarter, and there were 2% more active sellers in the quarter, the third consecutive quarter with a year-over-year active seller increase.
Fourth Quarter Business Highlights
Europe: Strong increases by the two South African businesses and Germany, offset by France, Italy and Turkey
Segment sales were down 3% in local currency (down 18% in dollars).

Emerging markets were down 2% in local currency. Tupperware South Africa, up 14% and Avroy Shlain in

South Africa, up 16% both with higher active sellers, offset by Turkey

, down 25% from lower productivity including impacts related to the external environment.

Established markets were down 3% in local currency.

Germany, up 9%, was offset by France, down 11% and Italy

, down 15%.
Asia Pacific: China up double-digits offset by results in Indonesia, Korea, and Malaysia/Singapore
Sales for the segment were down 3% in local currency (down 13% in dollars).

Emerging Markets were down 4% in local currency. China, up 18% was offset by Indonesia, down 4%, Malaysia/Singapore, down 13%, and Korea

, down 21% from lapping business to business sales from last year.

Established markets were down 1% in local currency compared with prior year. Nutrimetics Australia and New Zealand, up 10% on higher sales force activity, offset by Tupperware Japan, down 14%.
Tupperware North America: Both Tupperware Mexico and Tupperware United States and Canada leveraged strong fundamentals, growing segment sales in local currency by 16%
Segment sales up 16% in local currency (up 6% in dollars). Tupperware Mexico sales up 25% on higher activity and productivity. Sales force size up 7% compared with prior year.

Tupperware United States and

Canada

local currency sales were up 10% on a double-digit increase in active sellers. Sales force size closed 16% above prior year.
Beauty North America: Segment sales were down 6% in local currency (down 19% in dollars)
BeautiControl local currency sales down 13% from lower sales force activity in light of sales force compensation changes in the second quarter.

Fuller

Mexico

sales were down 4% in local currency from the prior year reflecting lower sales force additions and activity. Total sales force size down 3% at the end of the year.
South America: Leveraged 5% larger sales force for higher volume along with inflation driven price increases
Segment sales up 22% in local currency (down 17% in dollars), driven by increases in

Argentina and Brazil. Brazil

was up 22% in local currency, reflecting higher volume from a large sales force size advantage and some pricing.

Argentina

was up 48% in local currency, primarily due to inflation related higher prices.

Segment's active sales force was up 1%. The 21 point difference between the local currency sales and active seller comparisons primarily reflected the higher prices throughout the segment as well as improved productivity and a mix shift toward




Brazil

that has a larger than average order size.
Full Year 2016
Fiscal year includes a 53rd week estimated to have a positive impact on the year-over-year comparison of 1 point.

Tax rate excluding items is expected to be 25.5%, and 24.8% on a U.S. GAAP basis.

Excludes land sales that may occur.
Segment Level
For the full year, sales in local currency are expected to be about even in

Europe and Beauty North America, up low-single digit in Asia Pacific, up 6-8% in Tupperware North America and to increase in the mid-to-high teens in South America

.

Pre-tax profit in each segment in local currency is expected to improve by about 25% of incremental sales in local currency.
Dividend Declaration
The Company's Board of Directors declared today the Company's regular quarterly dividend. The dividend declared was
68 cents per share, even with the previous quarter. It is payable on April 4, 2016 to shareholders of record as of March 18, 2016.
About Tupperware Brands Corporation
Through an independent sales force of 3.1 million, is the leading global marketer of innovative, premium products across multiple brands utilizing a relationship based selling method. Product brands and categories include design-centric preparation, storage and serving solutions for the kitchen and home through the Tupperware brand and beauty and personal care products through the Avroy Shlain, BeautiControl, Fuller Cosmetics, NaturCare, Nutrimetics, and Nuvo brands.