LifeVantage To Launch Protandim Nrf1 Synergizer Product
February 22, 2016
By Nicole Dunkley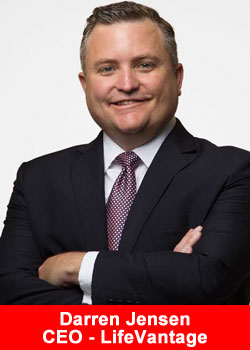 LifeVantage Corporation, has announced its intent to launch Protandim Nrf1 Synergizer moments ago during its Elite Academy in Nashville, TN.
The company intends to host a live cyber-launch in the fourth quarter of fiscal 2016 that will broadcast worldwide through the company's website.
"We will continue to strategically introduce new products that align with our objective to have a cohesive product offering that is unique and exclusive to LifeVantage, and provides optimal health for everyone," said LifeVantage President and Chief Executive Officer, Darren Jensen.
"The Protandim NFR1 Synergizer is formulated to strengthen the mitochondria, which are the power house of all cells for better cellular health.
It is designed to work in tandem with our flagship Protandim Nrf2 Synergizer product and further enhance our body's ability to naturally produce antioxidants and reduce the effects of cellular stress on its own."
Jensen continues, "Our advances in Nrf1 and Nrf2 Synergizer science continues to position LifeVantage on the leading-edge of Nutrigenomics."
About LifeVantage Corporation
LifeVantage Corporation, is a science based network marketing company dedicated to visionary science that looks to transform health, wellness and anti-aging internally and externally at the cellular level.
The company is the maker of Protandim®, the Nrf2 Synergizer® patented dietary supplement, the TrueScience™ Anti-Aging Skin Care Regimen, Canine Health, the AXIO™ energy product line and the PhysIQ™ smart weight management system. LifeVantage was founded in 2003 and is headquartered in Salt Lake City, Utah.