President Of Nikken, Ben Woodward, Becomes A Field Leader
February 25, 2016
By Team Business For Home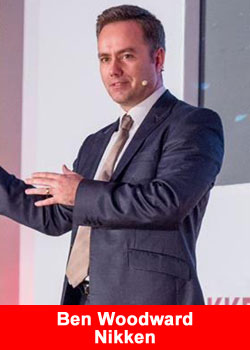 Ben Woodward is the former President of Nikken Inc. He joined Nikken as Director of Sales for the European market in 2011 and was named the region's Managing Director soon after.
By January 2015, Ben relocated to the States to assume the role of President of Nikken International.
A former council member of the UK DSA and CEO Council Member for Seldia, Ben brought a wealth of experience to Nikken spanning the areas of marketing, training, and sales management, honed on the front lines of businesses from startups all the way to multibillion-dollar organizations.
As President, Ben's dynamic brand of leadership continued to inspire and motivate a global audience toward a balanced lifestyle and entrepreneurial success.
In January of 2016 Ben Woodward announced he would step down as President and build the business as an independent Nikken distributor. This is a remarkable career switch – from senior corporate executive to full-time distributor.
Ted Nuyten had the honor to interview Ben Woodward about his move.
Ben, how did this choice come about?
In 2015 Nikken introduced a compelling strategy for growth. We consolidated our efforts and global footprint and focused on key areas of strength. Two key areas were – our product range (they have seen us succeed for 40 years now) and our philosophy of helping people become more. We became significantly more focused on customers.
Not to take away from the Distributor – but to the greater empowerment of the Distributor as our changes provided more people a greater opportunity to earn more. As with all change – it can sometimes be uncomfortable. A small number of leaders didn't want to change and they moved to other opportunities.
That's okay and is all part of the journey. We have seen that happen in every company in our industry. But I saw as President that culture always trumps strategy. So, by moving into the field, it gave me the chance to work more intimately with our wonderful field and, together, we are now executing the strategy with a clear culture of inclusion, collaboration and unity. This makes it so much fun!
What attracts you in building up a team in Network Marketing?
The flexibility and earning potential are two big ones for me. Why? I live in a single income household and my wife and I have seven children. Being a husband and a father are the two most important roles in life for me. I want time and choices so I can enjoy them more.
Ben Woodward Family
What was your opinion about Network Marketing before you were involved?
I loved the concept of knowing someone that was hugely successful that had a vested interest in helping me replicate his/her experience and results. I didn't come from a family where there were a lot of examples of financial success and entrepreneurialism but I wanted to be an entrepreneur. Our industry shows us how to do that.
How are you going to support your new business partners, lead by example?
Leading by example is critical. People follow what you do far more than what you say. This is one of the reasons I felt it was a powerful and bold step for me to leave my position as President and move into the field. At the same time, I see a great opportunity to create cohesion with our organization.
There is a lot of positive activity taking place, and I have been working hard with our leadership group to create a structured system and schedule of activity that people can plug into for help and support. What is important to me here is that we are driving that schedule in support of and cooperation with the company.
We are really establishing an incredibly united voice – and it all supports the critical activities for maximising distributor profitability and recognition.
Is personal development important for you and your team?
Nikken has a philosophy founded on what we call – 'The Five Pillars of Health'. A healthy mind, body, family, society and finances. We believe that balance across these five pillars begins with a healthy mind. To that end, personal development, learning and goal setting and achievement are essential for us as a team to truly prosper.
In fact, an essential part of the changes we introduced last year addresses this very subject. We introduced a mentoring program to help leaders develop their teams and to help the rising stars feel supported and well trained.
We also introduced a new online learning program that employs blended learning techniques – visual, auditory and kinesthetic approaches that allow everyone to connect and get value in their learning and development journey with us.
What fascinates you about the industry?
That someone from any background, race, religion, gender or experience can come in here and thrive on equal footing! I don't know of anywhere else that offers such an unbiased privilege. It confuses the outside world because they can't pigeonhole people here.
They can't say 'Oh you succeeded because of your education, or your privileges in society.' They can't say that. Here, people make it because they want it! I love that.
Why Nikken, what are the highlights?
We are boldly taking steps to provide the rank and file – the 80% that exist in every MLM organization that have just a handful of people in their team, a much stronger chance of making real money. We have dramatically reduced our product prices to make them very competitive with the retail environment that we are surrounded by.
This empowers people so much. We are already seeing people in the lower ranks earn more money than ever before The exciting thing here is – if 80% can now double or triple their check very quickly – what can that do for the big hitters? This is game changing time. The other reason why Nikken for me is really simple – I love my team!
Our field organization is some of the finest people I have had the privilege or associating with. I genuinely love them. The product and the model we have makes it rewarding and the people make it enriching.
The product and the model we have makes it rewarding and the people make it enriching.