Al Bala – CEO Mannatech Interview
March 2, 2016
By Team Business For Home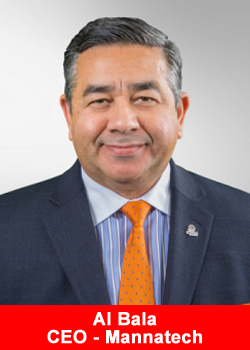 In August 2015, Mannatech announced that company President Al Bala would step into the role of CEO, ushering in a new era at the nutrition company, which ties its business to fighting childhood malnutrition through the M5M (Mission 5 Million) Foundation.
Bala joined the team at Mannatech's Coppell, Texas, headquarters in 2007, after a successful career as a field sales leader within the direct selling channel. Management called his recent promotion part of an intentional focus on the brand's independent sales Associates and international growth.
At the company's largest annual event, MannaFest, taking place in Dallas in April, Associates will experience firsthand the "new" Mannatech—the result of sweeping changes to the brand, compensation plan and product line.
What can people expect from the new Mannatech?
Al Bala: The feeling we have here today is really that of a startup company, a 21-year-old startup company. I believe these new additions we're about to launch will say that. Part of that initiative is a complete rebrand we've been working on for the past year.
We deliberately and conscientiously decided to take our time and understand the new Mannatech and who we are today, versus who we've been for 21 years, because a lot of things have changed in the industry and in the wellness space in general. We wanted to make sure we remain compelling and relevant and very competitive in this new era we're entering.
We also want to provide value to humanity through Mission 5 Million, a social entrepreneurship program which is at the core of why we do what we do. We want to be a company that will make a mark on humanity. This isn't just about corporate profit and the comp plan; it's about making a change and having a bigger why than what people might normally associate with our industry.
What initiatives do you plan to introduce at MannaFest in April?
One of the things we're going to launch is a state-of-the-art, best-in-class back office. The back office is the No. 1 tool for an Associate to create a long-term, effective way of generating a lifestyle. We also understand that we're moving into a new economy that is social, mobile and global, and we want to give our Associates a tool that helps them to participate in this new economy. In April, when we launch it, it will be best in class, both for our industry and for all industries.
The rebrand is an effort to be compelling and relevant to today's generation of consumers. The brand will be clean and consistent across all our products. As you can imagine, after 21 years of product development, you end up with a lot of different things.
This gives us a chance to make everything look the same with a clean, modern feel that will be really appealing to younger generations, as well as to a diverse community. We're in 25 countries, and we want to be appealing on a global basis.
We also are going to launch new products, very heavily focused on the concepts of fat loss and cleansing, and products that people want versus products people need. Nutrition is something people need, but fat loss is what people want. We're responding to the demand of the market.
Instead of trying to lead a customer to what we have, we want to be more customer responsive and consumer friendly, with a story that doesn't take a lot of explanation—it's just something everybody's on, and we're providing a solution that is differentiated within the marketplace. We want to offer something sustainable, sensible, safe, healthy and plant-based, in keeping with our tradition of developing products that are truly natural.
What has been your No. 1 priority since taking on the role of CEO in August 2015?
In keeping with my background in the sales field, I wanted to create a culture that is very Associate-centric. I want the company to be all about the Associate. We understand that they're the ones who really help build this company, and I want to make sure they understand that they're respected, they're honored, and there's empathy for what they do every day, because I've been there. I've been in the trenches. It takes lots of guts, tears and blood to build this business, and we wanted somebody at the top who gets that.
I definitely wanted to make the culture about the Associate, but at the same time I'm working on the internal culture. If the internal culture does not match the external culture, we get to a point of dissonance, and that's not good for our business or our industry. If the culture outside the building is entrepreneurial, I want the culture inside the building also to be entrepreneurial—high-performance, fast-moving. If we want to achieve the goals we've set, we're going to have to get into double-digit growth.
Having been both a direct selling entrepreneur and a corporate executive, what do you consider some common challenges facing corporate leaders?
In this industry, you often hear the field say that corporate doesn't understand what they're about, what motivates them, what keeps them going despite difficulties, and how hard it is to build this type of business. We want to always keep that in front of us and ensure we're responsive to their needs, by providing the right tools, the right compensation plan, and products that make us competitive. …It's about trust between corporate and the field, and I think that's a common challenge for corporate.
Mannatech has implemented a 3-Point Plan to develop sales leaders. What are those points, and how do they help to build momentum?
The 3-Point Plan goes back to the basics of our industry and the change we want to see at Mannatech—going from a company that's complicated and focused on putting out fires to a company that is more simple and Associate-friendly in terms of our sales system. The 3-Point Plan deals with structuring a business for profitability, as well as personal development—we call it the "me"; you have to be able to change me before you can change the world. We're heavier in personal development, I think, than we've ever been as a company. The third point is about developing leaders who develop leaders. Everything rises and falls on leadership. Once you have them understanding the products and comp plan, it helps them develop themselves, so they'll eventually be the kind of leaders who create leaders.
What new markets are on the horizon for Mannatech?
We're in the middle of preparing for our launch in Colombia, which will be our first country in South America, and really the golden door to the rest of South America and Central America. We are about to enter a very aggressive international expansion.
Another region we're focused on is Asia. Fifty-two percent of the world now lives there. We launched Hong Kong about a year and a half ago, and we want that to be the door to China. Soon we should have some exciting news about doing business in China, but the rest of South Asia is also very appealing to us.
What are the defining characteristics of Mannatech's new compensation plan?
First of all, we wanted our comp plan to be simple. We wanted it to be clear that when you do this, you get that—a simple correlation between activity and reward. We also focused on customer acquisition and the value of our products. …We want them to intrinsically have enough value that people will be attracted to Mannatech just because the products work and bring value to them.
We want the comp plan to incentivize the kinds of activities that lead to customer acquisition. Also, we want to reward the right behaviors—selling the product, sharing the opportunity, and developing an organization that does the same. It needs to be volume driven, focused on selling activity, and through that reward people on many levels, which is the promise of our industry. We structured it in a simple yet rewarding way!