Antony Spear – Buyezee CTO Interview: A Focus On E-Commerce
March 30, 2016
By Team Business For Home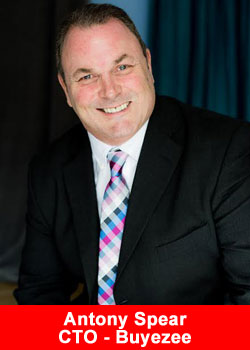 Buyezee's Shop owner packages enable individuals and companies alike to tap into the consumer online shopping marketplace with a professional, 100% personally owned and branded eCommerce comparison shop.
Recently Daniela Claudia Szasz was appointed as CEO.
The shops are pre-populated with 100,000,000's of products, flights, hotel and local deal offers by accessing the Buyezee database of Super Affiliate Relationships from 10,000's of trusted and well respected online retailers.
Buyezee Shop Owner Packages are promoted through their independent network of person to person direct sales entrepreneurs, who are referred to as "Shopreneurs" and are rewarded from sales of the Shop Owner Business Software, plus an ongoing percentage of affiliate commissions generated from each of the shops, through 10 levels of sales.
Buyezee currently offer a total of 7 Shop Owner Packages to cater for all budgets, ambitions and earning potential. The entry product is the "Free for Life" AFFILIATE Package that allows individuals to start profiting; proving the business concept and building their confidence to succeed with "zero risk".
Ted Nuyten had to honor to interview Buyezee CTO, Antony Spear.
Antony, can you explain the technology behind Buyezee?
Buyezee's systems constantly gather, download and update product data from across the globe, ensuring that pricing information is kept extremely accurate.
As new products become available, they are automatically indexed – including Amazon and Ebay's inventory; which will almost guarantee that you will always find what you are looking for.
With respect to our flight search service, we automatically search the market leading companies in your country for your flight combinations, allowing you to quickly and easily see how to get from A to B in the cheapest possible way.
Our local deals service quickly finds deals in your city, allowing you to purchase something a little bit special within your area for you and your family.
We're proud of our impartiality. All of our search results are treated equally and displayed based on relevance – they are not weighted by how much commission they generate. This helps make and maintain our unique position in the comparison service market.
Why did Buyezee choose a e-commerce network marketing strategy?
It is the perfect form of distribution for Buyezee as people share their enthusiasm, ideas and ultimately their results on a person-to-person basis. Also with the success of Social Networking, this is an excellent way for our partners to promote their Shops and the opportunities that owning a shop opens up, to their friends and followers.
Why do Buyezee call their distributors "Shopreneurs"?
The name "Shopreneur" is the combination of "Shopping" and "Entrepreneur" – with the main roles being to promote the sale of Shop Owner Packages to customers, secondly, to promote and use their own Shopping website, and, finally, to build and expand their network of Shopreneurs.
What are the benefits for a Shopreneur?
Here are some of the main features: start for free, generous compensation plan, global potential, no stock, no deliveries, strong residuals, great retail opportunity, work from anywhere, products and services for everyone, customers get best prices, high acceptance, minimal rejection, multi $trillion e-commerce marketplace predicted to double in size globally over the next 4 years.
Buyezee is an Internet opportunity, does this mean it is available in every country around the world?
We currently have e-commerce shops in 11 countries, but the opportunity is available globally, as shops can be promoted from anywhere and by anyone. There are millions of successful affiliate marketers globally, generating income from websites in countries where they do not necessarily operate. Buyezee's platform makes it easy for anyone to start promoting and generating sales.
How much is it to become a Buyezee Shopreneur?
One of the biggest barriers to setting up a business is the "cost of entry" – Buyezee have responded to this with their "Start for Free" concept – where Shopreneurs pay the €39 annual registration fee out of their commission earnings – so there is "Zero Risk".
ABOUT BUYEZEE
A global provider of fully serviced eCommerce shops that can empower individuals and companies alike to immediately brand, promote and profit from the Multi Trillion Dollar marketplace with little or no previous knowledge or experience.
BUYEZEE's innovative eCommerce products are marketed person-to-person by independent Shopreneurs on a global basis.
From its conception, BUYEZEE™ have chosen and consulted the most competent people available, thus ensuring that no beta testing is carried out at the expense of the network. Much time, money, planning and resources has been invested into product development to make this a powerful and leading global opportunity.
More Information can be obtained from our corporate website: www.buyezee.net