Buyezee Appoints Jens Pöhner As President Of Sales & Marketing Europe
March 13, 2016
By Team Business For Home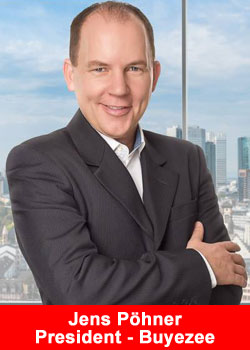 Recently Buyezee named Daniela Claudia Szasz as CEO and Antony Spear as CTO.
Jens Pöhner first began his network experience at the age of 18. As a sales director, he was building law firms for businesses in Europe for many years. Following four years working as a Sales Coach, he decided to enrol as a distributor in the Direct Selling company, within which he climbed to the highest rank, acheiving Diamond Elite.
Jens Pöhner: It is a big honor for me to assume the the position as President of Sales and Marketing, Europe at Buyezee. Following extensive research, Buyezee is in an outstanding position as a Global Digital Innovator, in a 1,5 Trillion USD market.
From day to day it inspires me more and more, with Buyezee, we have so many possibilities, as almost every company worldwide that offers, distributes or sells products on the World-Wide-Web can benefit from the advantages that a strategic partnership with Buyezee enables.
However, it's not only the companies that benefit from this cooperation, but rather the distributor, who are named Shopreneurs at Buyezee. With a few steps it is possible to build a worldwide Shopping-Emporium and with Buyezee on your side, you too can be involved in and benefit from, the tremendous growth being seen everywhere on the Internet!
The special focus within their marketing plan is that with minimum overheads from employment, they can yield the highest possible returns. As such, Buyezee stands out from other conventional network companies. With them, great emphasis is placed on partners, companies and emerging countries, to provide the basis for a successful future!
The beauty of their model allows us to work together with nearly every networker worldwide, creating a win-win situation as we integrate all of their existing products into the Buyezee stores.
When one considers that the Internet is actually still in its infancy and that many large regions are not yet developed in the world, it becomes especially clear where the Buyezee journey is heading!
As the President of Sales and Marketing Europe i look forward and garanty to help as many as poeple to achieve ther personal goals and financial wealth. For beginners and also for longtime distributors i'll give full support.I thank Buyezee for their all round confidence and I look forward to being a part of the creation of this new category in the network industry!
About BUYEZEE LLC:
BUYEZEE present search data to our members in an easy, quick and informative template from a database compiled of millions of products from thousands of retailers. We are passionate in assisting our members being able to save time and money by using the Buyezee LLC Shopping Comparison, Daily Deals and Travel Services.
We work with thousands of trusted brands from all corners of the globe and continue to develop relationships that we feel can bring value, savings and quality to our members.
BUYEZEE provides you with an enormous department store, a prime location in the shopping mall for free. In this store, all products that exist worldwide are available simply everything. You can then use the products to get the best price available, without any charge to the customer. For more info please visit: www.buyezee.com and www.buyezee.net