MLM Legend Ed Mercer Joins Global Wealth Trade
March 24, 2016
By Team Business For Home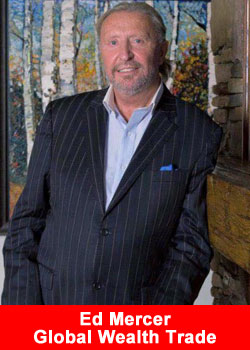 After spending over 50 years in MLM, Ed Mercer calls Global Wealth Trade (GWT) his final home.
Mr. Mercer started his career in the MLM profession at a young age of 20. Coming from a condemned home with no running water, no electricity, no flooring where two of his brothers died of overdose, his youngest shot to death, his remaining brother and father died of cancer and despite all odds, he made his first million in MLM at the age of 27.
There is more to Ed Mercer than Mr. MLM. He is also known as Mr. Costa Rica for donating millions of dollars to the Homeless and Humanitarian Project and the only non-Costa Rican to have been inducted into the environmental hall of fame. Ed has also worked with the Wild Life Association, Habitat for Humanity, Save the Children, World Wildlife Society, and National Geographic.
Having spent over half a century in the industry, Mr. Mercer has been one of the top leaders in the direct marketing industry. He has build MLM distributorship in 86 countries with a team size of a whopping 1.3 million distributors.
Mr. Mercer is also the author of the book "The Eight Grade Millionaire and a top motivational speaker who has shared the stage with 140 other top speakers in the world including Jim John, Randy Gage, Anthony Robbins, Zig Ziglar, Les Brown, Donald Trump, and Robert Kyosaki just to name a few.
Ted: How did you find GWT?
It was truly fate how I found GWT. I just moved back to Toronto and was at a networking event, and bumped into a lovely lady named Calli Jensen. Having a great conversation, she quickly introduced me to her business partner Anil Ramcharitar who has also had over 20 years experience in network marketing and had just started into GWT for several months.
And through Anil, he introduced me to his sponsor and mentor Rene Liaw who is GWT's Youngest Millionaire and currently holds the record of earning over $100,000/month, with just 7000 distributors! When I saw this, I couldn't believe what GWT had done with their compensation plan. In any other company, a six figure monthly income would require teams over 100,000 distributors and Rene Liaw did it with just 7,000 people.
Now over the past five decades in the industry, I've seen every type of MLM this world has to offer. Never have I seen a company such as GWT, the world's ONLY Luxury Fashion Designer that uses the Network Marketing platform and has created a system where their retention is 3 to 4 times the industry average.
Why you joined GWT?
After taking a look at a video the GWT CEO had developed called the 25 Reasons why GWT products are the best to market in MLM
I quickly decided that the timing in this company is perfect. This would be the last MLM Company I will ever have to build for a true and long-term residual income. Why? Because with over 2000 companies all-competing against each other in health and wellness and telecom, it sets for a horrible retention ratio and people jumping from one company to the next.
At GWT, I see leaders earning stable residual income year after year and growing year after year and all of their top earners are still here 10 years later. I've never seen anything like GWT's VARIABLE & FREE FLOWING, DUAL, INFINITY compensation plan (only one of it's kind) which pays out 75% to the field to INFINITY on ALL LEGS and not just the small leg like most companies. What also shocked me was that in a short time frame of 9 years, they have business in 150 countries around the globe, which offers anyone a great chance to build their business beyond their borders.
Most importantly, I love the fact that there is no other company in the world that can compete with Global Wealth Trade because of their unique 19K gold, 21k gold jewelry, 950 Selenium special formula jewelry, world class leather goods and accessories and some of the best timepieces the world has ever seen. If that's not enough, in a few weeks, they are releasing their "Prestige" grade, anti-aging skincare line called FERI FLAWLESS along with many more exciting products.
GWT has also solved a serious industry issue and that is the AUTOSHIP programs every MLM relies on to succeed. GWT has revolutionized the AUTO REVENUE mechanism with their unique monthly IA program (Inventory Account).
Please explain:
So what GWT has created for their AUTO REVENUE is invent a monthly IA program that instead of having to buy and ship products to your house on a monthly basis that often creates an excess of products in your kitchen, that eventually expires. Here at GWT, you simply buy and sell $35/$75 or $150 per month of products or if you are not sure what you want to order, you can simply accumulate those funds into your IA account for future purchases or sales.
Another words, you can choose whatever you want from1500 + items of the finest cutting edge fashion and quality when you need it vs. getting it automatically. GWT also offers products that are made with precious metals and stones, which is even more exciting as it goes up in value year after year.
Another key feature I fell in love with, was their Luxury Prepaid Car Program. Unlike other companies that make you sign a 3-4 year lease and if you don't maintain your monthly qualifications, you have to pay the lease yourself, in GWT, it's PREPAID Luxury Car Program.
Ted the advantages of GWT is overwhelming, I can go on and on. One of these great advantages is that the company offers a "SHIPPING IA REBATE" program, which I have never seen in my MLM career. The IA rebate is part of the company's shipping program and how it works is when you order your products, whatever your shipping fee is, the equivalent in rebate credits goes back into your IA account to be used for products, another words it's like FREE SHIPPING – Genius!.
To add to that GWT even takes care of all custom clearance and VAT/duties globally, again never seen in MLM before. See link for GWT's business Tour.
Tell us about your targets to reach in GWT over the next 12 months
My targets are to reach the National Ambassador level and receive the industry's ONLY prepaid luxury car program. Again at GWT, once you earn it as a National Ambassador, it's PREPAID. And of course, on the road to National Ambassador there is the free cruise, as well as a 6 star luxury vacation.
Having seen other individuals being able to reach National Ambassador in their first year, and earning over $200,000 is exciting for me because it creates a platform for me to reach my ultimate target of creating 100 millionaires in a timely fashion through GWT and be inducted into the Guinness book of world record. I know I will achieve this target because the fashion industry is a 1.2 Trillion dollar industry and growing, and Global Wealth Trade is the first company in the world that allows us to participate in this industry and make our dreams come true.