Total Life Changes' Youngest Couple To Reach The Ambassador Rank
March 24, 2016
By Team Business For Home
Hasan and Bonita McClain have always strived to do things as a couple and make a better life for their family. They have worked tirelessly to improve their lives financially, emotionally and spiritually. They even got baptized together. However, despite their efforts, life just kept getting harder and harder.
They moved their family from North Philadelphia to the suburbs and the bills quickly began to pile up. Hasan has always been a reliable provider, he worked as a long-distance truck driver to make ends meet for his young family.
He spent many days and nights on the road and away from Bonita and their three small children. But as hard as they both worked it just wasn't enough. They found themselves owing $50,000 in credit card debt and living from check-to-check trying to keep the bills paid.
Bonita went back to school to earn a degree and worked at a local bank while raising their children. The work ethic was in place. The conviction to provide a greater life for their children was in place and they were not willing to give up their new home, but something had to change.
Network Marketing was no longer providing the income that was promised. Bonita was discouraged with the industry, but her belief never died. Something inside of her kept believing that one day God would send the answer and that one day her family would live the life she dreamed of when she played with her Barbie dolls as a little girl.
During the winter of 2014, Hasan informed Bonita that she would have to make a choice between paying the mortgage and affording gifts for their children at Christmas. That was where she drew the line. Bonita recalls exclaiming to Hasan, "Why can't I have both?"
Hasan, being the rational one at that particular time, reminded Bonita that there were no other options. But God had another plan, one that Bonita calls a miracle. She received a phone call from her mentor and former business partner, TLC's Ambassador Denise Lee. Denise said, Bonita, I found it baby! Do you have one more run in you?
She told Bonita about Total Life Changes. At the time, all that Bonita wanted was money to go shopping for Christmas and she said yes, with that in mind. She was tired of telling her children that they could not afford to fund their interests, or birthday parties and facing the decision of being delinquent on their home mortgage or providing for a special holiday was where she drew that line.
Bonita and Denise joined forces along with a small team of visionaries and the rest is history. They created a movement that has now changed the world. Two years later, Hasan and Bonita have helped thousands of people position themselves to change their lives. Their TLC organization has blazed a trail around the world that has provided a platform for others who believe to begin rebuilding their lives and their bank accounts.
"When I first joined TLC my husband continued to work; driving these long-distant runs, often times in terrible road and weather conditions. I felt like I was blazing alone. I knew I had his support, but I also knew that this could be an opportunity to retire my husband and allow us to work side-by-side," says Bonita McClain.
And that is exactly what happened. Bonita was qualifying for new ranks at an incredible pace. She is now the youngest Ambassador in Total Life Changes and in October of 2015, after making over $500k in one year, she was able to retire Hasan and give her girls their daddy back full time!
"Since we started to work as a couple, God has blessed our business. It has continued to grow exponentially. In just over six months since working side-by-side with my wife, we are a stones throw away from being million dollar earners. We are now the third couple to reach the rank of Ambassador with Total Life Changes and we are just getting started.
I feel so blessed to be back home with my wife and children; to be an integral part of their lives and to help my wife care for them. Now we can enroll them in dance, gymnastics, or whatever they are really interested in trying out. We are so very thankful for our sponsor Denise and William Lee and for this marketing vehicle known as Total Life Changes," summarizes Hasan.
This past Christmas, this young mother from North Philadelphia who struggled to hold onto her belief and not become a statistic of her environment, went back to the daycare that took care of her daughters.
Bonita blessed ten single moms with a financial stipend so that they could provide a Christmas for their children, the very thing that motivated her to run one more time. And to think, she almost gave up on this industry. Many people around the world are thanking God for her YES!
Hasan and Bonita McClain are now able to enjoy more time with their family and opportunities to vacation. At this time of publication they are spending a family vacation in Disney World thanks to their decision to build a business with TLC.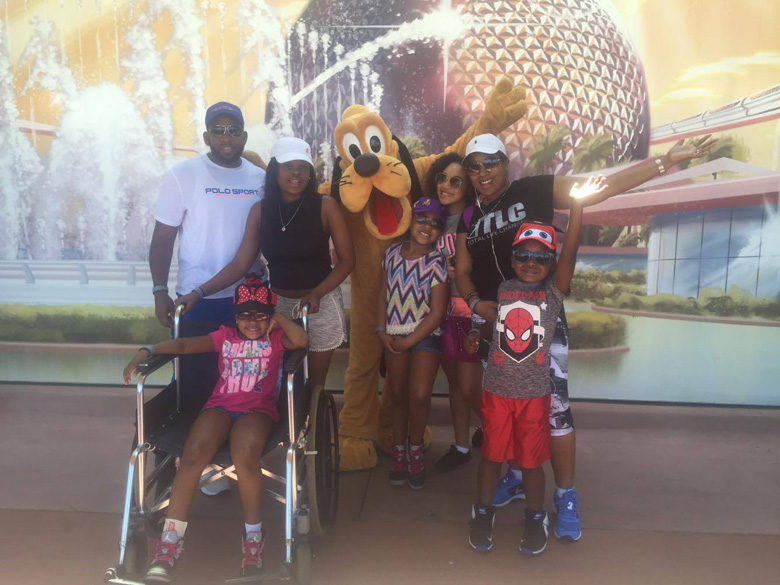 Keep your eyes on this young couple and soon to be first time author, Bonita McClain. She will be releasing her first book, So What I Was A Teen Mom in 2016. You can reach Bonita and her husband by emailing: [email protected]
About Total Life Changes
Total Life Changes® offers an amazing line of health and beauty products along with a great business opportunity. Founder and CEO Jack Fallon created TLC over 16 years ago with a single product: Iaso® NutraBurst. We have continued to grow the Iaso® brand of products like our popular Iaso® Tea. Our hybrid binary system allows IBOs of TLC to be compensated quickly for introducing new reps to our products and business opportunity. We are dedicated to providing the greatest opportunity for you to feel healthier and flourish financially. Join us and thousands of others who have already started making Total Life Changes.