Youngevity 2015 Revenue Up 16.8% To $156 Million
March 31, 2016
By Team Business For Home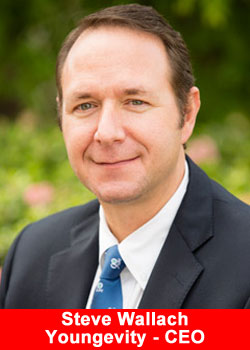 Youngevity International, Inc. (OTCQX: YGYI) (www.YGYI.com), a global direct marketer of nutritional and lifestyle products and also a vertically-integrated producer of gourmet coffees for the commercial, retail and direct sales channels, today reported financial results for the full year ended December 31, 2015.
2015 Full Year Highlights:
Net Revenues increased 16.8% over the prior year to $156.6 million.
Gross Profit increased 21.8% to $92.9 million compared to the prior year.
Operating Income increased 60.5% to $5.4 million compared to the prior year.
Net loss was $1.7 million compared to net profit of $5.4 million in the prior year, primarily due to changes in the valuation of net deferred taxes in 2014 and the impact of approximately $7.5 million of Non-Cash Expenses in 2015.
Adjusted EBITDA increased 39.9% to $9.2 million compared to the prior year.
2015 was a year of ongoing growth and category expansion for Youngevity, stated Steve Wallach, Chief Executive Officer of Youngevity International.
The company continues to exceptionally manage its cash and financial resources as it builds its international platform.
The opening of our Aliso Viejo Technology Center in December 2015, helped centralize our global operations and we believe the recent appointments of several senior and exceptionally qualified members of the Youngevity management team, has positioned us for major growth, now and in the years to come.
Dave Briskie, President and Chief Financial Officer of Youngevity, said, Once again we have generated record year over year revenue, gross profit, operating income, and Adjusted EBITDA.
We continue to encourage our shareholders to consider Adjusted EBITDA which mitigates the effects of Non-Cash Expenses on our financial performance. Non-Cash impact in 2015 was almost $7.5 Million. Our uniquely crafted business model continues to take shape driving multiple streams of revenue over several product categories.
Our global operations continue to expand and our coffee business is starting to scale. As we focus on growth worldwide we intend to continue to work with only the very best people and supply only the very best products to customers, employees and shareholders.
About Youngevity International
Youngevity International, Inc. (OTCQX: YGYI) (www.YGYI.com) is a fast-growing, innovative, multi-dimensional company that offers a wide range of consumer products and services, primarily through person-to-person selling relationships that comprise a network of networks. The Company also is a vertically-integrated producer of the finest coffees for the commercial, retail and direct sales channels.
The Company was formed after the merger of Youngevity Essential Life Sciences (www.youngevity.com) and Javalution Coffee Company in the summer of 2011. The Company was formerly known as AL International, Inc. and changed its name to Youngevity International Inc. in July 2013. For more information, visit www.YGYI.com or find us on Facebook https://www.facebook.com/Youngevityor follow us on Twitter @youngevity https://twitter.com/youngevity.