ASEA Executive VP Honored & New Member Appointed To Science Advisory Board
April 6, 2016
By Nicole Dunkley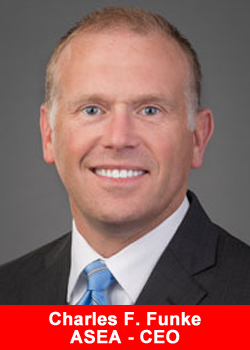 Kurt Richards, ASEA's Executive Vice President, has been honored by Utah Business magazine as one of Utah's Forty Under 40.
Richards was recognized as a business professional under the age of 40 who has climbed the corporate ladder quickly, becoming a standout in his field and demonstrating exceptional leadership qualities.
"We are extremely fortunate to have Kurt Richards serve as our executive vice president," said Charles F. Funke, ASEA CEO.
"Kurt's expertise in a number of key areas, in addition to his leadership qualities, make him an instrumental figure among our team and vital to our success and growth as a company. We could not be more supportive and pleased with Kurt receiving this well-deserved recognition."
At 38 years old, Richards has been instrumental in helping establish four successful startup companies, ASEA among them.
In the time he has been with ASEA overseeing marketing, public relations, communications, corporate development, and leads research and development efforts, the company has gone from $20,000 in sales to more than $70 million last year.
In 2015, ASEA was recognized as one of Utah's 50 fastest growing businesses.
In other company news, ASEA has appointed Richard Watt, Ph.D., as the fourth member of its Science Advisory Council.
Watt is currently a professor in the department of chemistry and biochemistry at Brigham Young University, with a Ph.D. in biochemistry from University of Wisconsin-Madison and postdoctoral research from Princeton University.
Watt has been published in numerous scholarly journals and academic volumes regarding biochemistry. In addition, he is a seasoned presenter, leading workshops and research talks at international biochemistry conferences.
About ASEA
CEO Charles F. Funke, President Jarom Webb, and Executive Vice President Kurt Richards are moving ASEA into the next phase of strategic growth. Their goal is to continue to push the boundaries of what's possible in the cellular health category and to help hundreds of thousands of people around the world live a healthier life, while achieving their own personal and financial aspirations and dreams.